-------------------------------------------------
-------------------------------------------------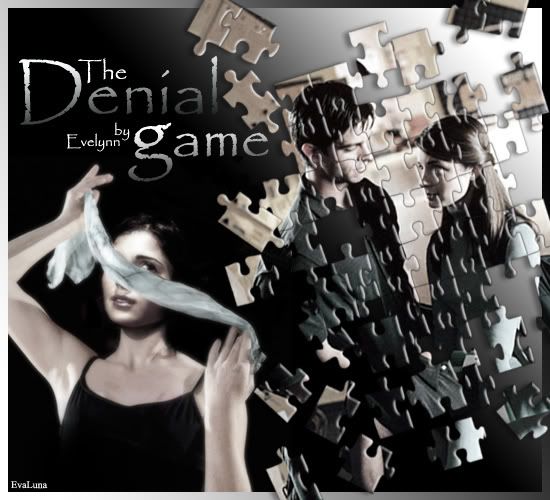 Banner by EvaLuna.
My
other banner
.
-------------------------------------------------
Title
: The Denial Game
Author
: Evelynn
Disclaimer
: I only own what my mind conjures up.
Category
: AU. ML. Liz POV.
Rating
: MATURE
Summary
: When Liz's father, Hank Phillips goes to jail for murdering her mother, Liz finds herself getting shipped off to Roswell. With her shadowy past and her even more shadowy looking future, will she finally stop living in her head and figure herself out?
Beta(s)
: Eccentric One, Calinia, Smac (current), BelevnDreamsToo (current)
-------------------------------------------------
-------------------------------------------------
Prologue:
-------------------------------------------------
Ever heard of the denial game? I'm a pro at it. I've mastered the game. I've played it all of my life. I'll give you a tip: it's all in the ears. All you have to do is pretend; pretend you didn't hear it. I'm good at that, at pretending. It's all I ever do.
When the door slammed, I didn't hear it. When the gun shot, I didn't hear it. And when the cops came, I didn't hear them either. I stayed in my room like the good little girl that I was, in my bed, pretending to sleep, not hearing a thing. And when they told me I was going to be going away, I sure as hell didn't hear them then. I didn't even listen.
You ever think that your life was the most screwed up thing in the world? Well, you're wrong. Everyone has his or her own problems. Some just happen to suffer openly while everyone else is playing the happy game of denial.
Take into account, me, for instance. I lived my picture perfect life on the outside. I was little miss perfect, perfect little daughter, perfect little student, perfect grades, perfect record, perfect
everything
. Little miss perfect Lizzie Philips.
That is, until they told me I was going to be a Parker. But did I hear them then? No sir. I was still playing the denial game, and it was my turn to roll. Here I go. Oh, wow. Look at that. Snake eyes. I lose. Yay me.
But first, I have to explain the rules of the game to you. It's a pretty complicated game, so I'll just give you the basics.
First of all, there are no passes. When it's your turn to roll, you'd better damn well roll. But the more you play, the more you lose and the more addicting the game gets. So it's advised to avoid your turn as much as possible or at least prolong or postpone it.
Another thing, once you start playing the game, there ain't no way in hell you're getting out. Not without paying the piper. Blood and guts are the usual bail, that, or therapy. Although therapy has its own little denial dance within itself. So I guess we'll just scratch that last bit.
Now on with the game…
-------------------------------------------------
-------------------------------------------------