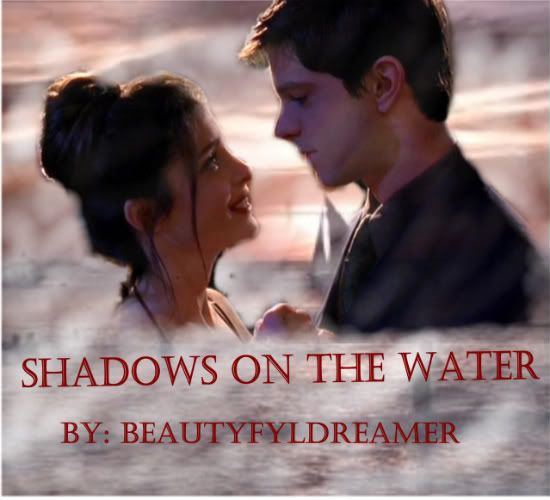 Title:
Shadows on the Water
Category:
Mostly CC with a M/L focus but a little UC too in parts.
Disclaimer:
The characters of Roswell don't belong to me; I'm just borrowing them to fill the hole in my heart that developed when the series ended. They definitely belong to Jason Katims, Melinda Metz, UPN, and the WB. The songs don't belong to me either – just another means of inspiration. No infringement is intended in any way, shape, or form.
Rating:
Mature
Summary:
Life is a ruthless, cold-hearted, unfair bitch. Liz learns the hard way that life never goes as planned, but there is always purpose.
AN:
I've been working on this for awhile. Not sure where it will go – but I have a general thought process around it. I have four parts completed thus far, so I'll post them spaced out, once a week – hopefully that way I can keep a regular writing and updating schedule.
Each chapter has a song/lyrics theme. I'll try to post links to each song at the beginning so you can listen and read too if interested. The title comes from a song by singer/songwriter Ben Howard called Cloud Nine. I'll be using the song later in the story – so stay tuned : )
Feedback is loved and adored : ) Critique away folks.
Enjoy!
Prologue – Skinny Love
http://www.youtube.com/watch?v=UrMmr1oMPGA
"Come on skinny love just last the year
Pour a little salt we were never here
My, my, my, my, my, my, my, my
Staring at the sink of blood and crushed veneer

I tell my love to wreck it all
Cut out all the ropes and let me fall
My, my, my, my, my, my, my, my
Right in the moment this order's tall"
When my fist connected with her face, I didn't really stop to think about the consequences. All that was going through my mind was how good it felt to knock that smug smile off my ex-best friend's face. It took my ex-fiancé and his brother to pull me off of her.
Bad idea - because then I turned on him. And when my fist connected with his face, I didn't stop to think about the consequences then either.
In fact, the consequences of my actions didn't really enter my thoughts until I was taking I-40 East out of California in my red Mustang with the wind whipping through my long, chocolate brown hair. Until my bags were packed and I was leaving everything I'd worked so hard to build in my dust.
Kyle Valenti and I had been together since my freshmen year at the University of Southern California. We met through the tutoring center. It was your classic, stereotypical love story – I was the geeky tutor who knew Biology 101 like the back of my hand, and he was the burly football player who needed help to stay eligible to play ball. On our last session together he asked me out for coffee.
I never would have guessed he was so intelligent. He didn't get science – but he knew his politics. And he knew his sports. We spent hours on our first date debating everything from Weapons of Mass Destruction to the Vietnam War. I think I fell in love with him that first night. He was so passionate about life. He was so different from the small town boys I'd known before.
We waited until we both graduated from USC, he with a degree in football and I with one in Molecular Biology. He proposed to me during a summer visit to San Francisco. It was everything that any normal girl would dream of: an expensive dinner by candlelight, walk on the pier under the stars, and a diamond worth more than my beautiful, convertible 'Stang. (I should know considering I bought my car with the money I got from pawning that damned liar's ring.)
I loved Kyle. I probably still do. He is everything I thought I would need. When the weight of the world was crushing me from all sides, he would lift it from my shoulders and comfort me in all the right ways.
"I told you to be patient
I told you to be fine
I told you to be balanced
I told you to be kind
Now all your love is wasted?
Then who the hell was I?
Now I'm breaking at the britches
And at the end of all your lines"
Tess Harding was my college suitemate for four years. We did everything together – every football game, every party, every late night study session. She was my best friend - the one I turned to when my life was falling apart. I cut all my ties back home and crossed the continental USA to attend the University of Southern California. After leaving everything I'd ever known back home, Tess was everything I needed in a friend. She became my family.
Or so I thought - until I walked in on her and Kyle together in my bed. I still shudder at the memory. My future fell apart in front my eyes that afternoon when I found her on top of my would-be husband in our would-be home.
They never saw me. Instead of going off on them then, I spun on my heel and left the house. I can't describe how it felt – discovering that the two people you trusted and loved most in the world had betrayed you in every definition of the word. What else was there for me in the world?
It wasn't until the next night – the night before my wedding – that I confronted my maid-of-honor and fiancé about their transgressions – in front of the entire wedding party.
I remember how Kyle's blue eyes had widened in utter guilt, while my own brown ones flickered with white hot rage. I'd erased all the pain from them that I could with that anger. It was the only way I could handle it.
Tess, embarrassed that I'd called her out in front of everyone, fired back with her own accusations – how Kyle had secretly loved her since our freshman year, how he had only dated me to get closer to her, how I wasn't good enough for her or him, how I wasn't a good enough lover...
She didn't make it past that last one.
It was at that point when I lost all of my control, and my fists started flying. When I left for the evening both Tess and Kyle had battle scars – two black eyes, chunks of missing hair, and a torn dress among them. And I had a pending restraining order.
Like I ever wanted to be anywhere near either one of them again.
My life in Los Angeles - in California – was over. I quit my job. I packed up everything that was mine, stuffing it in my new 2009 Mustang. I left.
I didn't shed a single tear either. Not until I saw the "Leaving California" sign. When I crossed the border, I gave one final glance into my rearview mirror.
And that is when my tears finally fell.
That life that I knew – it's over. I've opened to a new chapter now.
"Welcome to North Carolina"
"Come on skinny love what happened here
Suckle on the hope in light brassieres
My, my, my, my, my, my, my, my
Sullen load is full; so slow on the split

Who will love you?
Who will fight?
Who will fall far behind?"
* * *