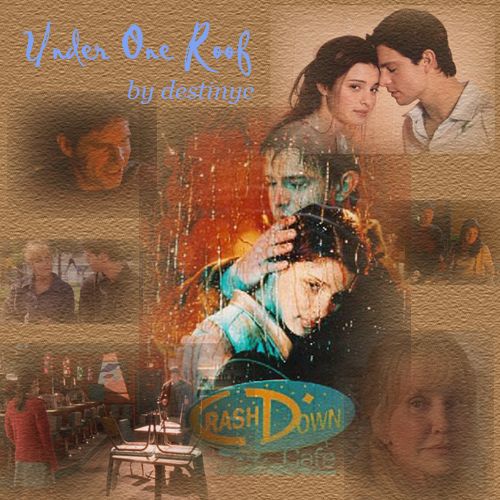 Title: Under One Roof
Author: destinyc
Rating: Adult
Pairing: Max and Liz
Disclaimer: I own nothing of Roswell nor any songs or brands mentioned.
Max and Liz are high school classmates both left devastated by the loss of a parent. When Jeff Parker and Diane Evans meet at a support group for surviving spouses, their courtship and marriage suddenly bring Max and Liz together as step-siblings. Max and Liz develop a deep affection for each other, but are forced to hide their feelings as their love grows into something forbidden.
***
"Hello everyone…I'm Diane Evans, and I lost my husband three years ago," Diane introduced herself and glanced round nervously at the circle of men and women seated in the padded folding chairs.
"Hi, Diane," came the warm though oft-repeated reply.
"So, what brings you here today, Diane?" the group leader gently inquired. Diane noted that his adhesive name tag read 'Stan.' The other participants turned their attention to the newcomer.
Diane took a deep breath before beginning.
"Well, I usually don't talk a lot about my problems—I just wasn't raised that way, you know…"
Understanding nods ran round the circle and slightly wry smiles crossed many lips as the other members of the Widows and Widowers Support Group related to their own similar feelings.
"And it's been three years since I lost Philip, but it seems that some new difficulty rears its ugly head every day," Diane took a deep breath before continuing, "and I'm trying to deal with all the demands—the bills, the mortgage, trying to keep my daughter in law school, making sure my son doesn't take too much on his shoulders…" Diane heaved a weighted sigh as she started to explain all that she was facing on her own.
"What about you, Diane? What do you do to take care of yourself?" Rosalyn, a full-figured African-American woman sitting beside Diane asked.
Diane stared out into the middle of the circle and held her breath as she considered the question.
"Nothing, I guess," she scoffed self-deprecatingly as she considered the luxury of tending to her own emotional life.
"At first, all my friends were very supportive, bringing food and flowers and such," Diane recalled the days after Philip's death. "But, you know, they were all part of a couple, and I wasn't anymore," her blue eyes glazed with tears, and her voice cracked with emotion. The woman sitting next to her took Diane's hand and patted the top of it as a comfort.
"But I told myself that my kids would be ok," Diane sucked in a determined breath, "that their lives wouldn't change. Isabel is a couple years away from finishing her law degree, and Max—he's a senior this year—he's working so many hours, and he has college coming up next year," Diane began to cry in earnest as she voiced her fears for her children's futures.
Tears rolled down her pale, delicate cheeks as she continued to share her story.
"I've just been trying to keep their lives as normal as possible, but I don't know how long I can do that," Diane dried her eyes with a crumpled Kleenex and smiled embarrassedly when she realized all the personal thoughts and feeling she had just shared with a group of strangers in the rec room of the United Methodist Church.
A dark-haired man spoke from the other side of the circle, "I know what you mean. You can try to fix everything and be mom and dad rolled into one, but, I agree, most days you fall short," he sighed a deep breath and met Diane's wry smile. "I've got a daughter your son's age—Liz, and she's so bright and so sweet, so hardworking, but, yeah, even after four years, she's still suffering," Jeff Parker took a deep breath as he looked down at the floor, voicing his fear that he could never fill the void that was left by Nancy's death.
"I think that those of you with children need to keep in mind that it is impossible for you to keep every facet of their lives the same," the group leader offered. " Teenagers and young adults have the capacity to understand the changes that are inevitable when a parent dies, like moving out of the house where they grew up or altering their plans for college, for example. They may not always like it—but they can learn to cope with those new changes in their lifestyle," the tall, lanky, balding man replied as he wound the session to a close. "I have some resource material for children's services on the table by the cookies. You can pick up those on your way out if you like."
Muffled sounds of conversation and laughter sounded from behind the closed double doors.
"It sounds like the youth group is ready to practice their skit for Sunday. We'll meet again next week, same time," Stan announced as everyone shuffled from their seats. "Have a good week everyone—call if you need anything," he turned to remind everyone before pushing open the heavy wooden doors.
"Hi, Diane—Jeff Parker," Jeff offered his hand to Diane as the other group members made their way to the exit after introducing themselves to her.
"Nice to meet you, Jeff," Diane shook Jeff's strong, calloused hand. "I think we may have met at last year's science fair."
"Oh, that's right. I think Liz did some project on cellular abnormalities that I couldn't begin to understand," Jeff chuckled. "I think your Max is good friends with Michael, one of my cooks," Jeff noted.
"Yes, yes they are," Diane concurred, nodding.
Jeff's nervousness seemed to increase as he fiddled with his collar.
"We sort of ran out of time back there," Jeff glanced back at the now-empty circle of folding chairs. "I closed the Crashdown early tonight, but I could put on a pot of coffee, and I think I have a couple pieces of pie leftover from today if you'd like to talk."
Diane stammered nervously and glanced round the room, uncertain as to how she should respond.
"Just to talk," Jeff insisted, as he feared Diane may have thought she had just been propositioned for a date.
"Well, do you have any of that lovely blackberry pie left?" Diane smiled after she decided there was little harm in joining Jeff Parker in his diner for coffee and dessert.
"Men in Blackberry?" Jeff playfully questioned. "I always have a slice or two available," he smiled warmly.
"Then I will meet you there," Diane decided.