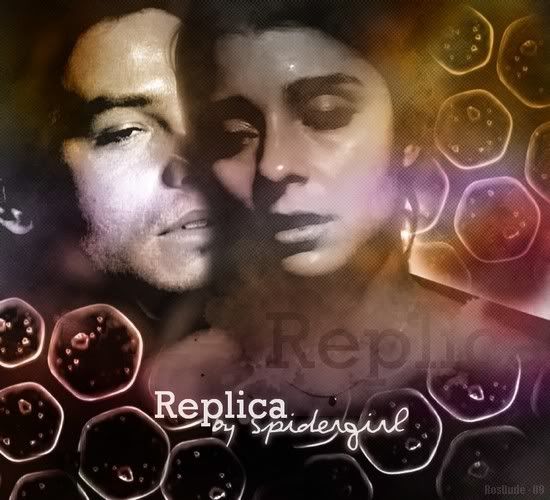 Title:
Replica
Author:
SpiderGirl
Disclaimer:
I own nothing. Roswell belongs to Fox.
Rating:
This is mature. If this isn't your thing then don't read it.
Summary:
Maxwell Evans is abducted from a camp site near his home in California while camping out with his big brother Michael Evans. On the same night on the other side of the country in Boston Liz Parker is driving home after visiting her best friend Maria Deluca when she is abducted as well. They are missing for three months, their family and friends begin to suspect that they will never been seen again. The two family get their children back but something has happened to them to change them. The two returnees feel a strange pull towards the unknown other but try and deny it because of the memories that they have from the time they were abducted.
Pairing:
All CC, mainly focusing on Max(Zan)/Liz(Ava).
Notes:
Liz is the only child of the Parkers, her best friend is Maria Deluca and her ex-boyfriend is Sean Deluca. The Evans have three children; Isabel, Michael and Max. Only Max is their biological son, Isabel and Michael were adopted when they were four years old and they are twins three years older than Max. The Crash never happened in Roswell and the world isn't aware of the possibility of alien existence that dawned from the 'supposed' Crash in 1947. This is an idea spawning from an original story I wrote years ago and the idea of cloning I wrote about in Hindsight.
Prologue
The ship hovered in orbit in the atmosphere high above California, it was being piloted by five Antarian geneticist shape shifters who were the last of their kind. The ship was carrying DNA samples of every being from the five planets; they had been ordered to try and create hybrids in order for their race to live on
"Have you found any compatible Earth creatures that could be hybridised with the genetic material of King Zan?" asked Nasero as he stood over the control panel looking at the read outs
"We have found a few but there is one that appears promising" answered Kaatori who opened the information and displayed it on the screen in front of them
"Transport all of them up here, test if their blood is compatible. Start with him" he said pointing a long grey finger at a dark haired amber eyed boy in his late teenage years "I will contact the other ship and see if they have located any females that could be hybridised with Queen Ava's genetic material"
"Yes sir" Kaatori replied, he closed down the information files and began setting up the location locks on their possible subjects to beam them up.
Chapter One
Max smiled happily as he set the fish he'd caught earlier that day up on the grill to cook, Michael was busy setting up the tent just as sun was starting to go down. It had been a while since they'd come out here to camp because Michael had been away at college studying Art and Archaeology at UCLA.
Max was the baby of the family at nineteen and he looked up to his big brother and sister who happened to be twins. He pretty much followed them around like a little puppy when they came home to visit, Isabel would have been on this trip as well but she couldn't get away from her studying to be a doctor so she told them to go and have a good time without her.
"Little brother, how are the fish doing?" Michael called once he'd finally erected the tent
"I just put them on, I take it the tents are up then?" he replied as his big brother came and dropped himself down on a log near the fire then grunted his answer "Good coz I have to go pee. Would you look after them while I'm gone... make sure they don't burn"
"Yeah, yeah" he nodded then looked up as Max walked off towards the trees. He was proud of Max who had graduated at the top of his class and had been valedictorian, he was a bit miffed that his little bro would be following in the footsteps of their sister by training to become a paediatrician but he was still proud non the less. He turned back to the fire and cursed when he saw the fish starting to produce black smoke.
Max walked some distance from the camp site towards the trees because they were close to the lake so they could get in good fishing while they were here. He looked around briefly making sure no one was around, assured that he was alone he unzipped his fly and let loose into the bushes with a relieved sigh. He zipped up when he was done and turned round to go back to the tent when a bright blinding light shone down on him; he felt like he was being with a strange force and he froze with fright
"Michael! Michael! Help me!" he cried out in fear as he felt weightless all of a sudden and his feet left the ground.
Michael dropped the fish when he heard his baby brother calling him for help. He stood up sharply as he heard the voice in the distance
"Max?" he mumbled looking at the trees, he could see the bright light shining through the trees but he couldn't see the cause of it
"Oh God! Michael! Heelp Mee..." Max's scream was cut off and the light vanished with a roaring whoosh
"Max!" he shouted as he rushed towards the trees looking for his baby brother. He reached the area that Max had been standing in and found the trees charred and smoking and his brother was no where in sight...
***
"Oh you be careful driving home" said Maria as she hugged her best and oldest friend goodbye, Liz Parker had spent the past two weeks with her before she went back to Harvard. She'd been at college getting things set up and decided to visit her friend who was attending Juilliard to study music
"I will" she replied as she hugged her back "You know me"
"Yeah you drive like you're eighty. At least I'll never have to worry about you crashing!" she chuckled
"I can't believe we're not going to be at the same college" said Liz sadly "We've always done everything together"
"Yeah I know. But I just don't have the brains to be a molecule thingy-ma-jig and you're tone deaf" she pointed out making Liz smile
"I'm going to miss you" she stated finally "I'll email you when I get home and let you know I'm okay"
"You better!"
"Bye"
"Bye Chica" said Maria, she watched Liz leave her dormitory before shutting the door.
She climbed into her old beat up Beetle and got on the road to go home. She would miss her friend but they could still email and Maria had promised to come out to Boston when she had her next break. Several hours later found Liz switching on the radio hoping to fill the silence as she reached a lonely road going through some trees near a large canyon and her heart began to race as she travelled the dark stretch alone. Her mind conjured up all sorts of strange twisted nightmares that could happen while she was driving
"Get a grip, Parker, nothings going to happen to you. You're just freaking out" she told herself as she focused on the road. Suddenly a bright blinding light filled her senses and she felt like she being ripped backwards through the car until she was standing in the middle of the road. She watched her car continue onwards down the road without her "My car!" she cried not realising the situation she was in then the weightlessness hit her and she felt herself rising up off the ground before the light vanished leaving a circle of melted asphalt behind.
The car continued on the road until it reached a safety rail, it crashed through it then went over the edge into the canyon below where it exploded on impact.
***
Diane woke up the loud brisk knocking at her front door, it was the early hours of the morning and she and her husband, Philip had both been in bed. She grabbed her robe then quickly padded down the carpeted stairs to see who on earth could be knocking at this time of night.
Opening the door she was faced with her worst nightmare, there were two police officers standing on her porch while behind them she could see Michael sat in the back of a cruising crying into his hands
"What? What is it? What's happened?" she demanded as her face fell
"Are you Diane Evans? Mother of Michael and Max Evans?"
"Yes I am. Where's Max? Where's my baby?" she took a step out hoping to see him sat next to Michael but he was no where in sight. Michael looked up and rubbed the last few tears from his eyes then got out of the back of the car
"Your youngest son is missing. We believe he may have been kidnapped" explained one of the officers. Michael hurried over to help his mother as she collapsed against the door frame
"Mom!" he cried as he rushed over to help her
"Who would have wanted to kidnap him? He was just a kid!" she shouted
"We're following every lead. It's very likely we'll find whoever took him because his brother raised the alarm promptly. An officer is going to stay with you and we'll keep you informed of any update" said the other officer. Philip came down to see what was going when his wife hadn't returned to bed and saw the drama unfolding on his front porch
"What's going on?"
"Max is missing" said Diane as she began to cry. Michael helped his mother inside and an officer followed them, she was nice with warm sympathetic eyes
"Michael? What happened?" he asked firmly
"Someone took him. He went to the... toilet and the next thing I know there's this bright light and he's calling for my help" he looked up shaking his head as tears filled his eyes "He sounded so scared. When I got there he was gone... I don't know who took him or how they managed to get him so quickly. I-I tried to find him, I must have run all over those damn woods looking for him before I called the Park Ranger"
"It's going to be okay. I'm sure he probably just wandered off" said the young police officer; her name tag read Banks "Is there anyone you'd like me to call?"
"Isabel... she doesn't know. Philip call her and tell her to come home right away!" she cried and he did as she asked, she wanted her children here where she could see them. She needed to know that Isabel was okay "What if something has happened to her too? What if someone is targeting us?"
"Mom, they would have taken me too. If they had I wouldn't have been able to raise the alarm" Michael pointed out "I'm sorry mom, I'm sorry I let this happen. I should have been watching him I should have known that someone was there!"
"Oh Michael it's not your fault" she answered him, pulling him close "I don't blame you. I'm just glad you're safe"
"I'm sorry mommy. I'm so sorry" he started crying as she held him.
"Isabel's coming home. She's okay... I asked if anyone had been hanging around her and she said no. Michael? Are you okay?"
"Shhh" Diane said glancing up at him as she rocking her eldest son while he cried.
*
"Do we know who was driving?" asked the officer standing near the broken rail guard looking at what was left of the smoking, charred Beetle
"The plate was registered to a Liz Parker. We did some back tracking... she left her friends' place three hours ago. I wonder what happened to her..." the man in charge replied "What have you got on the melted asphalt back there?"
"No clue... whatever caused it to melt like that must have been hot. I had to look up how hot is has to be to melt like that"
"How hot?"
"300 degrees Fahrenheit" he replied as the two of them walked to the puddle of bubbling liquid "Detective... do they... do they look like footprints to you?"
"They do. Can we find out what Miss Parker was wearing before she disappeared? If those are her shoe prints then how on earth was she standing on 300 degrees asphalt without hurting herself? Surely if she had been standing there she would have left marks on the dry road around the circle"
"This is a mystery. Do you want me to notify the parents?"
"No, no. I'll do it... her parents will probably know something's wrong since she hasn't arrived home yet"
*
Detective Mathis pulled up outside a large bustling restaurant, it took him ten minutes to find the place and fifteen minutes to drive there. The sun had come up and it was a new day, one that the parents of this girl would have to face with worry; he always hated this part of his job.
The restaurant turned out to be a short order diner and it was busy with the morning rush, a brown haired man in his early forties stood behind the counter serving people. It was clear to see that he was Liz's father, and if not then he was very closely related to her
"Mr Parker? Mr Jeff Parker?"
"Yes" replied the man looking up blinking in surprise at being addressed like this
"Detective Samuel Mathis of the Boston PD. I'm afraid there's been an accident, sir" he explained as he flashed his badge
"An accident? Who? Nancy? Liz?" he began to shake and went pale. Mathis figured that Nancy was the man's wife
"Your daughter, Liz, she was involved in a car accident"
"Is she okay?" he whispered fearfully
"I think it's best that we talk in private. There are some strange circumstances surrounding your daughter's accident"
"Yes, yes of course... we can talk in my office" he said as he took off his apron and led Mathis into the back room which doubled as an office "Tell me, is my daughter alive?"
"Honestly, sir, we don't know. We believe so but she very well may be badly injured and confused"
"What happened?"
"Her car went through a safety rail down a steep drop and exploded. Now we suspect that something may have happened because she wasn't in the car when it went over, we did find evidence that she might have been standing on the road but no further evidence to suggest she might have walked off. Tell me, Mr Parker, did your daughter have any enemies? Anyone who would want to cause her harm?"
"What? No! No! No one would want to hurt her, she is a good kid... she graduated valedictorian and got into Harvard. Everyone around here adored her"
"She was well known?"
"She worked here and was known and loved by all the regulars and she worked for several charities"
"There wasn't anyone who could have been jealous of her? Any jilted ex boyfriends?"
"She broke up with Sean because she was going to college, he didn't take it too well... um that's Sean Deluca. He was her best friend's cousin"
"Do you have his address?" he asked as he opened up his little note pad
"I don't have it. But Maria might... that's Liz's best friend... give me a sec and I'll find her address"
"We already have it. Maria was the one who reported in that her friend hadn't checked in, we connected the dots and found the crash"
"She can't have wandered far from it could she?" he asked desperately "Oh god what am I going to tell Nancy?"
"If you want we can have an officer come by for you both to talk to and keep you updated on any information we get"
"Yes, yes that would be good" he nodded as he reached for the phone to let Nancy know that Liz was missing.
TBC...