Title: Freak Storm
Couple: Rath/Maria Zan/Michael
Rating : Adult
Summery: Maria moves in with Rath after discovering why her relationship with Michael is falling apart. Trapped together in a freak storm can Maria continue to deny her growing feelings for Rath
Disclaimer : The characters belong to Melinda Metz, Jason Katims, WB and UPN. They are not mine and no infringement intended.
Type : smut w plot
Author's note: Zan came with the dupes to Roswell.
Special thanks to my beta :MsBigBadCandyLover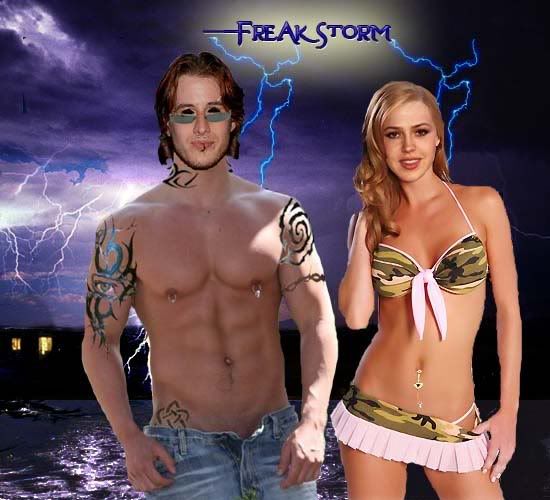 PT 1
So many things had changed since the dupes came to Roswell all those years ago. Max, Isabel, and Tess left Earth to return to Antar and fight with the rebels against Khivar. Michael stayed behind claiming Maria was his home. Their relationship started to slowly fall apart over the passing months. She couldn't figure out why things seemed to change for them until the day Zan walked into The Crashdown with Rath.
Rath no longer had the classic mohawk. Instead, his hair was now shoulder length with red streaks. A silver spike through his right eyebrow could be seen even with the shades that hide his eyes. His septum was pierced with a silver circular barbell and his bottom lip was pierced with a silver captive bead ring. He wore a black leather pants and a black muscle tee that showed off both his muscles and tattoos. On his left upper arm was a tribal tattoo wrapped around barbed wire with a green eye placed in the center of the tribal design. A tattoo of his alien symbol was etched just above an armband barbed wire tattoo on his right arm.
Maria found herself wondering if Rath had any more piercings or tattoos. Noticing the look Michael was giving Rath she thought that maybe he believed she was checking him out. She was unaware that the whole time she was looking Rath over that Michael had been looking at Zan. His hair was no longer spiky but shoulder length. Only two piercing that could be seen, his right eyebrow with a silver captive and a black spike labret. He wore a pair of tight leather pants with a black tee, which hid the two tattoos on his upper arms.
Maria was about to ask Michael his problem when Rath lowered his shades showing her that his eyes were completely black. Her eyes doubled in size knowing that meant his alien self was at the surface. Michael mumbled something before quickly getting up from the booth. Maria glared at him as he walked through the break room doors.
"Figures!" she said in annoyance.
Rath sat down across from her. Maria was about to follow Michael and give him a piece of her mind for ditching her yet again, when Rath said,
"Ya didn't even notice that Zan went after him."
Maria shrugged her shoulders figuring that Zan wanted to talk to Michael about something. They had spent a lot of time together the last time Zan was here.
"I don't know what is going on." She finally admitted.
Maria knew that she was talking about her relationship with Michael. If she was honest with herself then they would be over. Nothing sexual had happened between them in months. Michael was always making some kind of excuse. Rath snickered, knowing exactly why things weren't working out between her and Michael. He found the fact she was clueless amusing.
"What are you snickering about?" Maria asked while glaring at him.
Raising his eyebrow, Rath answered,
"Ya wouldn't find it amusing."
He studied her watching how her green eyes sparkled slightly with annoyance. Smirking at her, he said,
"Ya looks even tighter when ya mad."
Maria tried to figure out what he meant by tighter.
"Can't you talk like a normal person?"
Rath slipped his tongue out of his mouth and slowly ran his tongue along his bottom lip.
He played with his lip piercing before answering, "Not normal."
Maria couldn't deny that what he said was true.
"Right you're Czechoslovakian."
Rath shook his head not finding the nickname she had given the aliens funny.
"Nope. I ain't Czechoslovakian ."
Maria imagined that if his eyes were normal like Michael's that they were challenging her to tell him he was indeed what she claimed. She had a feeling that if she did call his bluff that he would say he was an alien. The mere idea of what might happen if she did made her blood running cold.
Wanting to get away from the alien factor, Maria asked,
"So how long are you and Zan staying?"
Rath shrugged his shoulders not really certain if he could be away from the city for that long. He knew Zan came back because of Michael.
"Zan dragged me along. He wanted me away from this girl I've been seeing'"
Her curiosity peaked wondering why Zan wouldn't like his girlfriend.
"Zan doesn't like your girlfriend?"
Rath smirked, noticing how Maria seemed to stress the word girlfriend. "Harley isn't my girlfriend. We have this mutual agreement. No strings."
Rath informed her. He didn't think she would handle knowing the real reason Zan disliked Harley. Zan didn't trust her since she was a Dhampir, half-human and half vampire.
Rath understood that humans had a hard enough time understanding that aliens existed. He even had a hard time comprehending that things he believed only to exist in movies were really real.
"Not sure ya could handle the truth," Rath finally said.
He couldn't help but smirk when Maria instantly crossed her arms over her chest and glared at him.
"What's that supposed to mean?"
"There are many things that are different abouts me." Rath said.
He was actually referring to the differences between himself and Michael. Before Maria could question him about what he meant the waitress walked over to their booth.
"My name is Freya; I will be your waitress. In honor of Halloween, we have a couple new specials, Alien brew, Alien mash, and Alien spooks. Is there anything I can get for you?" She asked.
Maria couldn't help but notice how Freya smiled and flirted with Rath while she waited for him to answer. Rath shook his head not the least interested in the brunette whose body signals were telling him she wanted to jump him.
"Coffee, Beam-me-up burger, and space fries." Rath answered.
Nodding her head while smiling sweetly, Freya wrote down his order.
Turning to Maria, she asked, "Anything else I can get you?"
Maria shook her head no. She got the distinct impression that Freya was trying to get her to leave.
Freya turned her attention back to Rath, "Be right back with your coffee."
Smiling at her Rath said, "Ya could just bring me the pot."
No one else he knew drank coffee like he did. Freya giggled and then walked away.
"She thought I was joking."
"Freya is new. So she is clueless about your coffee addiction," Maria explained.
Rath raised an eyebrow knowing just from the tone she used that she didn't like Freya.
"Ya don't likes her."
Maria shook her head no. "Could she be any more obvious?"
Rath snickered, leaning closer to her, "Ya jealous or Michael not given ya any?"
"I have no reason to be jealous. Michael and I are none of your business," Maria hissed.
Rath hadn't missed the slight change in her eyes. His eyebrow rose wondering what had happened. Her heart beat faster as she thought about a night she had pushed deep down in her mind. Trying to change the subject, she asked, "Getting an apartment with Zan?"
"Hell no!" Rath exclaimed. Meanwhile, Freya returned with his coffee.
"Your order should be up in a moment." She said before walking away.
"Might like the girl Zan brings home?" Maria questioned.
Rath was thankful he had swallowed the coffee in his mouth.
"Nah. That wouldn't be why."
Maria studied Rath trying to figure out what he wasn't telling her. Freya placed his plate with Beam-me-up burger and space fries in front of Rath.
Smiling sweetly at him, she asked, "Anything else I can get you?"
Rath shook his head no and answered,
"Just the bill. Gotta go looks at an apartment after I eat."
Freya smiled and placed the bill down in front of him. Rath watched her walk away thinking, Wonder if she wants some fries wit that shake.
"She gave you her number." Maria said
Meanwhile at Michael's apartment. Michael shifted adjusting his jeans. He couldn't recall the last time he had been this hard. A small voice in the back of his mind whispered,
Late one night while you were dreaming about being with him.
His eyes were trained on the door knowing that it was going to open.
Zan licked his lips. He smirked to himself knowing the only thing separating him from Michael was the door. Looking at the door, he used his powers to open it and then stepped inside. His eyes raked over Michael's body. Michael jumped slightly when the door clicked shut. "Zan" Michael whispered.
Zan smirked knowing Michael was trying to make it appear that he was completely calm and unaffected by his sudden appearance.
His voice was thick and husky as Zan acknowledged him, "Michael."
Zan let his eyes linger on the bulge in the other alien's jeans. Michael inhaled deeply feeling the effects of his eyes instantly. Walking across the living room, Zan slowly circled Michael letting his eyes move over his body.
Michael shivered knowing Zan was stripping him with his mind. He could feel Zan's breath against his neck just before Zan pressed his body into his own. His breath came in pants while his body became aware of his hardness. His heart beat faster knowing the only thing keeping their skin from touching was their clothes.
Zan smirked while recalling how Michael always acted like this around him. "Miss me?"
Michael nodded his head yes not trusting his own voice. His breath hitched as Zan placed his hand on his hip holding him tightly against him. Zan cupped Michael's bulge in his hands slowly running his thumb back and forth.
"Ironic this is where it all began." Zan said in a thick and husky voice.
//
Flash Back
//
Michael slammed the door to his apartment and flopped down on his couch in anger. Mad over the conversation, he just had with Max over the second set of pods.
Of course Max wanted to wait. Do more research. That is always his solution. Wait. I'm tired of waiting.
He flicked through the channels wishing there was something good on. Finding nothing, he contemplated calling Maria to see if she wanted to come over.
A good make out session should distract me.
He sighed knowing Maria was mad at him at the moment.
Zan was walking by when he sensed someone using powers. He smirked knowing the alien that he sensed was Michael. Hearing his thoughts, he licked his lips.
Rath's dupe. Thinks Iz gonna gets the lay of the land right here.
He grinned when he found the door unlocked.
Don't even need to use my powers.
Closing the door behind him, he locked the door not wanting to be interrupted. Figuring that it was Max, Michael didn't even bother to look.
"No need to come and check on me. I'm not going to look for them your highness." Michael said.
Zan raised an eyebrow wondering why Michael might be annoyed with his dupe.
"Iz didn't come to checks on ya. More likes gets the lay of the land." Zan said.
Michael jumped up from the couch. Staring at him, he noticed how Zan looked exactly like Max except for the piercings, tattoos and longer hair. He didn't know whether to be thrilled or scared that one of the second set was standing in his living room.
Zan looked him over noticing how Michael looked like a pretty boy.
"Ya wanted a good make-out session." Zan said.
Michael blinked in surprise while wondering how Zan had known what he had been thinking a few moments earlier.
Shaking his head no, Michael said, "Not into that."
Zan raised an eyebrow and moved closer to Michael. "How's ya know? Ya tried?"
Zan asked. He moved his eyes over Michael's body mentally stripping him with his mind.
"No" Michael said. His voice slightly squeaky.
The temperature in the room seemed to raise a few degrees. His heart beat faster as he breathed in deeply. His mind racing while his body responded to the glances and suggestions clearly written in Zan's brown eyes.
"Ya n me the only ones here. No one needs to know." Zan purred.
He moved closer to Michael his movements like a panther stalking its prey.
"We don't even know each other," Michael whimpered.
"Iz Zan n ya is?" Zan asked.
Michael stepped back as Zan moved closer to him.
"Michael" He said swallowing the lump in his throat.
I'm losing my mind. I should just tell him to go to hell. Why am I even considering this?
Zan smirked, hearing all of Michael's thoughts.
"Ya could chalk it up as experimentation. Unless ya decides ya wants more,"
Zan suggested.
Walking behind him, Zan placed his hand on Michael's hip and then pulled him into his body. He cupped the bulge in his jeans with his other hand.
"Much better than a hand job or a cold shower." Zan said.
The breath against his skin sent shivers down Michael's spine. Nodding his head in agreement, Michael gulped.
//
End Flash Back
//
A loud groan filled the room. Deep down, Michael knew that he could no longer deny his true feelings. His body ached with un-quenched desire and need. Zan slowly unbuttoned and unzipped Michael's jeans. Slipping his hand inside of the denim, he gripped his hardness tightly in his hand. Michael hissed and thrust his hips backwards.
Zan smirked against Michael's neck. He knew what Michael wanted but had no intention of just giving into him. Michael groaned as he felt Zan's teeth against his neck. He felt almost like he was on fire with his mounting desires.
"Ya gotta tells me what ya wants?" Zan purred.
He ran his tongue along the slightly reddened mark knowing before the end of the night it would be dark and purple. Wanting to make Michael squirm, he started to thrust his hand up and down his hardened cock.
Michael whimpered in desperation. The moment Zan walked into the diner, he knew what would happen. His attempt to flee the diner was once again his way of avoiding the truth that this thing with Zan had always run deep. It had always been more than sex with him. A fact that scared him more than he cared to admit. Deep down, he knew that was why he clung to Maria. His own fear of admitting that he was gay.
"Please...Zan." Michael begged in a thick and husky voice.
He could see the smirk forming on Zan's face in his mind. Zan slowly pushed Michael's jeans and boxers down over his hips. He continued to stroke his hardness in one hand while ripping the tee off him with his other hand. Michael kicked his boots off and then his jeans off the rest of the way. He grunted in frustration when Zan stepped away from him. Zan kicked off his own boots and quickly rid himself of his jeans. He was so eager to be with Michael that he practically ripped his own tee off.Michael breathed in deeply as he felt Zan's hardness pressed against his ass cheeks. Zan ran his thumb over the mark on his lower left cheek. He smiled to himself while recalling how Michael had received his mark.
//
Flash Back
//
Michael breathed in deeply. He felt weak in the knees. Never before had he had such a powerful orgasm. He could feel his body begging for more. A whimper slipped past his lips as Zan slowly slipped out of his clenching ass.
"Please..."Michael begged.
Zan raised his eyebrow knowing from Michael's reaction that one time would never be enough. He'd known from the moment, he took Michael's virginity that he wouldn't want to walk away from him.
Too tight, hot, and being wit him feels too good. Should walk away now before he has me wanting only him.
Michael didn't like the continued silence. His heart pounded fearfully in his chest.
I'm not good enough.
Zan sensed Michael's thoughts. He wanted to blast the human who left the marks on his back and made him feel worthless.
"Ya wants me again?" Zan asked.
At the same moment, he concentrated leaving his Antarian symbol on his left ass cheek.
//
End Flash Back
//
Michael gasped falling to his knees. He never had figured out how the mark had become such an erogenous zone. All he knew was that each time Zan had touched the mark; he had become putty in his hands. Always begging him for more. He still regretted his fearfulness of his powers. Hearing the sudden growl of annoyance behind him, he gulped, knowing that Zan sensed his thoughts about his powers.
Knowing his fear had driven Zan away the last time. Michael quickly turned. He had no intentions of letting Zan walk out his door this time. Looking up at Zan, he slowly brushed his tongue across the large mushroom head. The first taste of his salty, and spiciness had Michael wanting and needing to taste more of him. The hiss that slipped past Zan's mouth made him smile to himself as he closed his mouth around his large mushroom head.
Zan slipped his hands into Michael's long locks. He breathed in deeply wanting to feel Michael surrounding him completely.
Been too long.
Zan thought as he said, "Thoughts ya wanted me inside ya tight ass."
Michael pressed his tongue into the vein and deep throated him. Concentrating, he opened a connection with him and responded, I do. Zan almost climaxed at that very moment.
Michael could sense the joy Zan felt through the connection. Grunting in a combination of pleasure and frustration, he thrust his mouth up and down. Zan massaged his scalp enjoying the feel of Michael's hot, wet mouth holding him tightly. He could feel his climax building with each thrust of Michael's mouth along his hardened cock.
Michael enjoyed each grunt he heard. He loved that he could make Zan grunt, whimper and moan with such wanting.
Don't worry ya gonna be screamin so loud they mights hear ya back at The Crashdown.
Michael scrapped his teeth over the vein and started to massage his balls. Zan thrust his hips uncontrollably as his hardened cock pulsed and then his hot cum flowed into Michael's mouth.
"Michael!" Zan screamed.
Michael greedily drank him down. Tasting him completely had him wanting to taste him again. Zan breathed in and out trying to recover some of his control. Michael slowly slipped his mouth from Zan's length and looked up into his eyes. Licking his lips, he begged Zan with his brown eyes.
"Tells me what's ya wants" Zan purred.
"You." Michael answered.
Zan shook his head no. Michael gulped knowing that Zan wanted him to admit he wanted and needed Zan to fuck him.
"Ya wants me to gives ya head?" Zan asked.
Michael noticed the slight change in Zan's brown eyes but chose to ignore the warning.
Shaking his head no, Michael growled,
"Stop teasing me. You know I want you to fuck me."
Zan licked his lips and then smiled evilly. Michael realized at that very moment that Zan would do just what he asked. Shaking his head no, he begged,
"Please..." Raising his eyebrow, Zan turned Michael and slowly pressed his head into the tight ring of muscle.
"Had no intention of teasin' ya until ya said I already was teasin'."
Zan slowly thrust his hardened cock deep inside of Michael's tight ass. He breathed in deeply enjoying the way Michael held him so tightly. Michael grunted in frustration feeling each inch.
"Please...it's been too long..." Michael begged.
He loved how good Zan felt when he thrust slow but at the same time, it drove him crazy.
Zan forced himself to keep his thrusts nice and slow.
"Missed this..." Zan grunted. Michael whimpered in frustration. He clenched around him as his prostrate was stimulated. Thrusting his hips backwards, he growled in frustration when Zan made certain their thrusts remained at the slow pace he was setting.
Michael moaned, grunted, and whimpered in pleasure. He was lost in the feelings of ecstasy that Zan was making him feel. Zan grunted in pleasure and frustration. Finding his slow pace harder to keep with each thrust. Their bodies were slick with sweat as he finally started to thrust faster.
"Zan!" Michael screamed.
His continued stimulation of his prostrate gland had him clenching even tighter around him. He thrust his hips uncontrollably as his hardened cock pulsed and his hot seed shot out of his head.
Zan grunted in pure pleasure. Michael. He thrust deep into his clenching ass as his balls tightened. Michael was desperate to feel Zan's hot cum coating him. He continued to thrust his hips into him with Zan silently begging with each thrust and clench to give him what his body truly craved.
"Michael!" Zan screamed.
Zan thrust deep inside of him as his hardened cock pulsed. Michael grunted in pure pleasure. The warmth flowed into him coating his insides and making him want more. He involuntarily thrust back again begging for more.
"Damn" Zan said after breathing in deeply.
Michael nodded his head in agreement hoping Zan wouldn't pull out of him.
Neither were aware that Maria walked into the apartment just before Michael climaxed, She stood shell shocked, not wanting to believe what she had just seen and heard. Michael sensed someone was staring at him. His mouth dropped open when he looked over at her. Maria held her hand up and shook her head no.
"Don't bother." Maria screamed.
Turning around, she walked out of the apartment and slammed the door closed.
TBC