Round Thirteen RF Awards
Best All Around Fanfiction
Favourite Supporting Portrayal of Michael Guerin
Favourite Supporting Portrayal of Maria DeLuca
Round Fourteen RF Awards
Favourite Lead Portrayal of Max Evans tied with BB's awesome Crush
Favourite Lead Portrayal of Liz Parker
Favourite Supporting Portrayal of Alex Whitman
Favourite Portrayal of a Child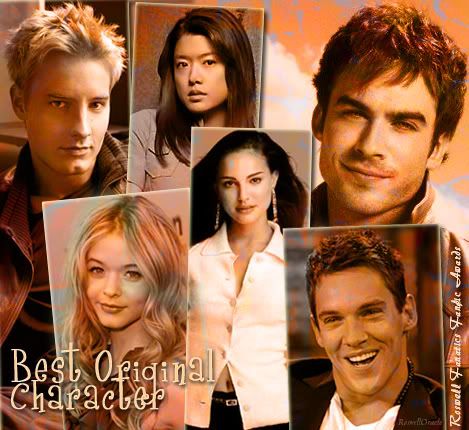 Best Original Character for David
Best Conventional Couple Fanfic
Best POV Fanfiction
Story with the Best Twist tied with trulov's awesome Twisted
Fic with the Best Musical Use
Favourite First Chapter
Title:
Hiding Beneath
Author:
Alison
Genre:
M/L
Summary:
Max Evans appears to have the perfect life, he's popular, hot, smart and a talented athlete. When Liz finally gets to know the object of her affection, will she find out that all is not as it seems?
Disclaimer:
I don't own nuffings. Jason Katims and Melinda Metz and a whole bunch of people I've never met own them.
Rating:
Adult
A/N:
I promised myself that I wouldn't post this until I had it completely finished, but I've had a rough couple of days and could really use a pick me up.
Warning

:
This fic contains mentions of child abuse. Please don't read if this subject is not something you can cope with. It's not the only focus of the fic and I've attempted to deal with it tastefully, but I won't be offended if you choose not to read, believe me.
Lovely Banner by FrenchDreamer. Thanks a bunch!
Hiding Beneath


Part One
'There are many things that I would
Like to say to you
I don't know how
Because maybe
You're gonna be the one who saves me'
Wonderwall by Oasis
***
Liz's POV
I sit at the counter, one hand supporting my chin, staring dreamily off into space. It's a dreadful habit of mine, you see. My life is so uneventful that I have to fill it with as many fantasies as I can, a sort of escapism if you will. Right now, I'm indulging in one of my favourites; Max Evans. In my mind, I have Max Evans. He is mine. In my mind I can put aside all the other girls that are prettier, nicer or just generally more worthy than I am and pretend that he sees past all these girls and only has eyes for me. Yes, I know, it's not healthy and quite delusional to believe that I, Liz Parker, plain and nerdy, can attract the attentions of such a virile he-man. But, alas, with no other prospects on the horizon, I'm left to my own imagination. Besides, it can't hurt to fantasize, can it?
I mean, the last guy I dated was Kyle, whom I went out with twice over the summer before he broke up with me for Tess, which wasn't too upsetting because I knew there was nothing really between us and there never would be.
I'm immersed in my Max-land, imagining that he's professing his long repressed desire and love for me, when suddenly a voice sounds in my ear knocking me back into reality and almost off my chair.
"What are you thinking about that's got you smiling like that?"
With one hand gripping the bench and another on my heart to try and settle it, I turn to the object of all my secret fantasies and begin to berate him.
"Max! Do not sneak up on people!"
Instead of looking abashed he merely smiles that lopsided grin that I adore, with a confidence that has never failed to arouse my jealousy. Just how can he be so sure of himself and so comfortable around everyone? While I love most everything about Max, the thing that I love most about him, is the fact that he doesn't ignore me. In fact he goes out of his way to talk to me even though I'm not exactly in his league. He sits with the pretty people and I… well, let's just say that I don't. His Mom owns a delivery company here in town and it's their company that we hire to bring us our vegetables. And it's usually Max who brings them, which, when I found out, just about put me into an almost hysterical state of happiness.
"I didn't sneak Parker, I walked calmly. It's not my fault that you were too engrossed in your own mind to see me coming." He leans in farther his eyes locking with mine and in my head I see myself swoon. Obviously doing it physically would be a tad too obvious, so I restrict myself to my imagination. I've become quite adept at restricting and controlling my reactions to him. "Just what was it that had you so absorbed? I've never seen such a goofy smile on your face."
I scowl at him. "Goofy. Thanks. That's what every girl wants to hear, that they have a goofy smile."
He rolls his eyes at me and pushes my shoulder. I am able to control my natural instinct to shiver at his touch and mentally clench my fist in victory. "Parker, that's not what I meant. You just looked really… happy, I guess. So spill, what were you thinking about?"
I snort, coming up with the most repulsive image I can find, hoping that if I make him laugh, he'll stop pursuing this line of questioning. "Mrs Morgan."
While Max laughs, let me fill you in here. Mrs Morgan is old, hairy and about five feet tall and about five feet wide. She's our school's cafeteria lady and if the food wasn't off putting enough, her serving it is guaranteed to make you dump your lunch in the trash.
Max stops laughing and pins me with his probing gaze again. I squirm a little in my seat. How am I supposed to lie to that face? "No, seriously. What were you thinking about?"
This time, I'm going to have to flat out deny. "Nothing."
His incredulous look tells me that he might not give up on this one. "As if. Come on Parker, you know you want to tell me."
I laugh and push myself up and out of my seat. "No, actually I don't."
I begin to walk to the back room only to have Max follow me. While I may have dreamt about Max and I in the back room, these weren't the exact circumstances I'd imagined. I'm just about to walk up the stairs when unexpectedly, Max asks, "What's his name?"
I blink and stare at him, my foot held in mid air, about to take the first step. "What?"
"What's the name of the guy who's got you sitting dreamily at the counter staring off into space?"
I search Max's face to find any sign of humour, but his face is unreadable at this moment. He's shut off from me and I'm not sure if he's joking or not.
"You're insane." I quickly plaster on a fake smile, attempting to divert him away from this strange questioning we've gotten ourselves into. "Don't you have a home to go to and a sister to drive insane?"
Max rolls his eyes and I inwardly breathe a sigh of relief as he withdraws from the strange conversation we've been having. "Yeah, I guess I should go spread her bras all over the front lawn or something."
"But then you'd have to touch them," I remind him, the relief at the normalcy of this conversation letting me slip back into my usual role around him.
He winks and I think I feel my knees go weak. "Don't you worry about me Parker, I've got a hazchem suit in the back of my closet."
"Well, isn't that handy?"
"Isn't it?"
And suddenly, like a switch has gone off, there's an awkward silence. Now, despite my attraction to Max, I have never, ever had an awkward silence with him. Never. This, ladies and gentlemen, is a definite first. I silently groan, hating my bad luck. First the bizarre conversation and now this? Could my life suck anymore?
"So Parker," I jump as he breaks the silence. "Can I spread your bras over the front lawn?"
"Max," I reply easily to his cheeky question. "You're never seeing my bras."
"Oh come on," he wheedles. "Just one?"
"Nope. You can just pine away for them."
"Parker, you're resigning me to a cruel fate. How's a man supposed to live without seeing some breastices?"
I raise an eyebrow. "I thought you had enough offers from the cheerleaders to fulfil your breatices quota?"
Max waves away my statement with a dismissive hand. "Pfft. Fake boobs don't count."
"I can hear the sound of dozens of cheerleader hearts breaking all over town." Glancing at my watch, I pretend to read the time. "I have to go, Max, I'll see you later."
"Seeya Liz." I turn and head upstairs, having avoided another awkward silence with him. I collapse against the closed door and congratulate myself and then ponder the strangeness of my encounter with Max.
What in the hell was going on there?
***