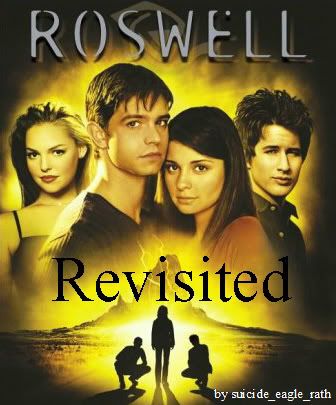 Title:
Roswell Revisited: Pilot Episode
Author:
suicide_eagle_rath
Rating
: Teen (
severe sarcasm
and harsh language)
Disclaimer
: The characters belong to Melinda Metz, Jason Katims, WB and UPN. They are not mine and no infringement intended. I am only attempting to finish a riveting story from one point of view.
Summary:
A rolling commentary:
Created and written by Jason Katims co-produced and directed David Nutter the television show "Roswell" is loosely-based on the "Roswell High" series of novels for Junior High school readers.
Author Note:
SEVERE SARCASM .. so no complaints or moaning from what you read
Introduction
"Roswell" is basically your first-love romance, a Romeo and Juliet scenario, where the small town girl falls in love with the boy from the other side of the tracks, or in this case universe. The pilot skillfully blends the feminine teenage romantic view of love with the icons of pop culture; fashion, hot bods, and music. Then to make it that unique otherworldly feeling they add the spice sci-fi.
Sounds good! Yeah on the outside but what about the nitty-gritty, what happens when we peel back the mask of innocent 12-year-old romantic Cinderella glazed over brain docu-drama and come heart to heart with the truth?
If your seeking a show that demonstrates superior acting ability continue your search and go somewhere other than TV land. If you come seeking an action packed Sci-fi action drama, please continue your search, Roswell has gaps so big the Enterprise could fly through. And if you are looking for the idea love story also continue your search because the sickening sweet "love" scenes will make your teeth ache and drive up your dentist bill. However, if you love to delve into a story and root around, Roswell is the perfect feeding ground.
So sit back and enjoy, get ready to have your socks knock off, your dentist bill skyrocket as we climb aboard the train to Roswell, alien sex and all.
~~~~~~~~~~~~~~~~~~~~~~~~~~~~~~~~~~~~~
Pilot Episode stats:
Originally aired: Wednesday October 6, 1999 on WB Network
Writer: Jason Katims
Director: David Nutter
Show Stars: Jason Behr (Max Evans), Shiri Appleby (Liz Parker), Katherine Heigl (Isabel Evans), Majandra Delfino (Maria DeLuca), Brendan Fehr (Michael Guerin), Colin Hanks (Alex Whitman), Nick Wechsler (Kyle Valenti), William Sadler (Sheriff Jim Valenti)
Guest Stars: John Doe (Jeff Parker) , Wendle Josepher (Jennifer), Kevin Weisman (Larry Trillin), Vance Valencia (Mayor Sandler), Joe Camareno (Paramedic), Yolanda Lloyd Delgado (Ms. Hardy), Richard Schiff (Agent Stevens), Jonathan Frakes (Countdown Guy), Michael Horse (Deputy Blackwood), Zoe Nutter (Isabel at 7 years old), Daniel Hansen (Max at 7 years old), Channing Carson (Liz at 7 years old)
Production Code: 1ADA79