Title: An Imperfect Life
Author: Debbi, aka Breathless
Disclaimer: The characters of "Roswell" belong to Jason Katims, Melinda Metz, the defunct WB and UPN. They are not mine. No infringement is intended.
Category: CC, M&L, plus supporting characters.
Rating: Mature
Each part will have a musical introduction to set the "tone". Credit will be given to the musical artist(s).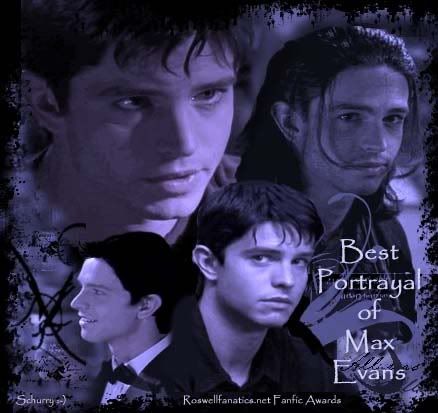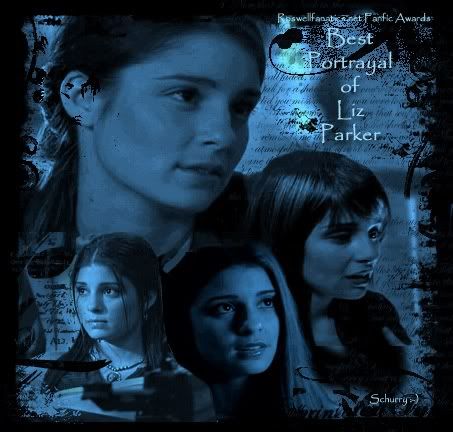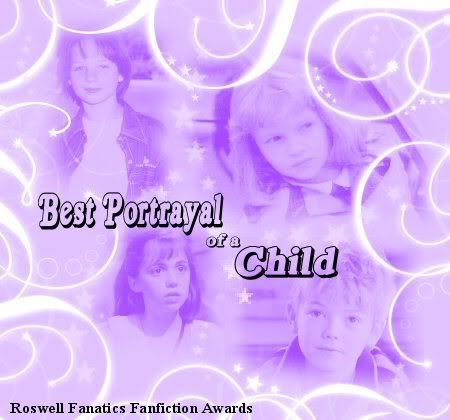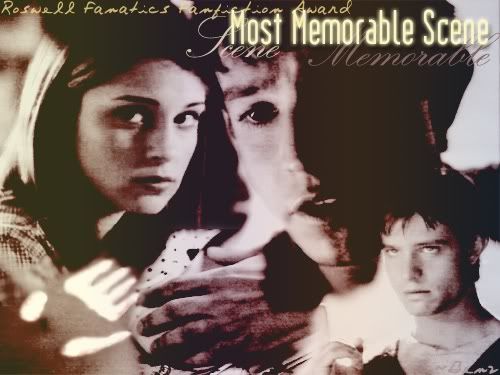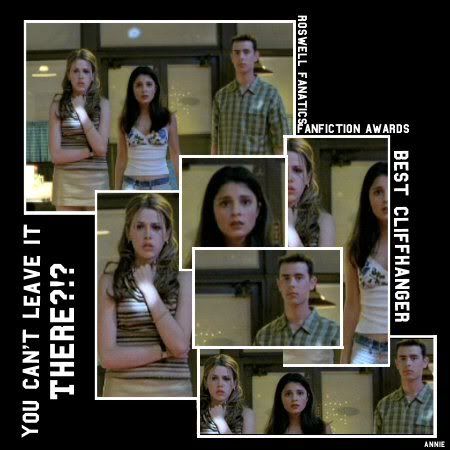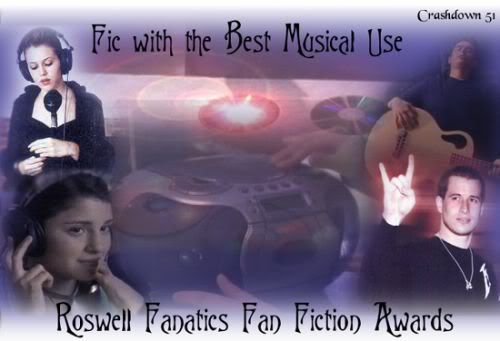 Summary: This is a future fic – the year 2014 - with first few parts flashing back to 2001/2002. The prologue begins with the closing scene from "Control", season 3. Max returns from California, determined to make things right with Liz, just as she's come to an entirely different conclusion as to where their relationship is headed. Will the very forces that drove Max and Liz apart ultimately bring them back together? I'll be posting both the prologue and the first part together, so that readers have a clearer idea of the storyline.
Max's son is a major feature of this story. It's no secret that I'm not a fan of season 3. I hated the "search for the son" storyline and felt like it pretty much ruined everything that had been good about the show. For the longest time I couldn't abide any story that featured Max's son, until I saw a story by
Pathos
, called
To Have and To Hold.
She created such a wonderful character in little Xan, how could you not love him? I decided then that the best way to confront my feelings about Max's son was to write about it. This story is the result.
What if Tess wasn't lying when she said baby Zan was sick? Should a child be held responsible for his parent's sins?
An Imperfect Life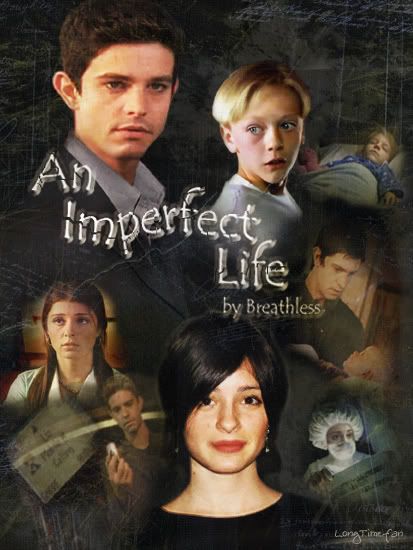 Banner art by LongTimeFan
Looking back at me I see
That I never really got it right
I never stopped to think of you
I'm always wrapped up in
Things I cannot win

I'm sorry about all the lies
Maybe in a different light
You could see me stand on my own again

What I really meant to say
Is I'm sorry for the way I am
I never meant to be so cold
Never meant to be so cold

Cold
Crossfade
Prologue


New Mexico
November, 2001
The miles fell away as he drove, cloaked in the darkness of night, with only the stars to keep him company. Each town he passed, each state line he crossed, brought him closer to her, but still he had no clear idea of what to say to her, how to explain where he'd been, what he'd seen, what he'd done. His mind walked down a thousand paths while he drove, but they all led to the same question.
How had he let his life get so out of control?
Then again, maybe it'd always been this way, from the moment his cells first multiplied in a Petri dish. How 'normal' could a life be when you were created in a lab, when you were nurtured in an artificial womb, when your moment of 'birth' was clawing your way out of an alien pod?
Max Evans drove through the desert night contemplating the failures of his life, and holding on to the one right thing he had ever done. Liz Parker was waiting for him in Roswell, and he wouldn't stop until he reached her. She was all that he had, all that he ever hoped for, all that he could ever dream of, and it was time to let her know that.
Time to give up this impossible quest that kept him from her. Time to put the wants and needs of someone else above his own. Time to heed the words that echoed through his mind. Words recently spoken to him with justified loathing.
"I destroyed my life for you tonight, all for nothing. Because of you, everything I've worked for is gone. It's how you've always been, your Majesty. Selfish and ungrateful. Being your protector might be encoded in my genes, but after tonight, I'll never stop hating you."
Shaking off the bitter words, Max knew it was time to face who he was, and who he was becoming. Did he want to keep on the path he was heading; becoming Zan of Antar, the selfish and ungrateful king Kal Langley accused him of being? Or did he want to be Max Evans, the half human – half alien hybrid, whose only goal in life was to be accepted, and to love Liz Parker?
As dawn broke on the horizon, he drove toward Roswell, knowing the answer to that question. But the question he dared not ask hovered in his mind, a question best left unspoken, for to hear the words aloud might somehow seal his fate.
Would Liz still be waiting for him, or was he already too late?
* * * * *
Liz Parker stepped down from the stairs and wandered through the back room of the Crashdown with no clear direction in mind. She picked up a discarded box, the one she'd left sitting on a chair the night before, and dropped it in the garbage. She didn't want the contents that were inside it anymore. The reminders of her life with him were just too painful to look at.
In an effort to remain busy, she picked up a broom and began to sweep the already clean floor. She needed something to keep her mind off of where it wanted to go, of the person she couldn't stop thinking about. Where was he now? What was he doing? Was he thinking of her, or was she only an afterthought in his mind?
Liz gripped the broom harder, telling herself it was time to face the facts. She wasn't the girl she used to be, the innocent high school teenager who thought the biggest disaster in the world was getting a B on a Calculus test. She'd seen too many things, done too many things, to ever feel innocent again.
The reality of her life hit her full force, like a slap in the face, opening her eyes to the awful truth. The Max Evans that existed today wasn't the boy who'd fallen in love with her so many years ago. That Max Evans didn't exist anymore. She'd destroyed him on a night last fall when he came to her balcony and she hadn't been alone. It didn't matter that the scene had been staged, or that every fiber of her body didn't want to go through with it. She'd set a goal of making Max Evans fall out of love with her, and she was finally willing to admit that it had worked. The Max Evans that existed today wasn't in love with her, and what they were holding on to was only memories of the past.
Liz pushed through the door into the café knowing there was only one thing left to do. It was time to make a clean break before she drowned in the suffocating silence. She couldn't live this way anymore, waiting for him to come back to her, looking for that sparkle in his eye, knowing she'd never see it again. That sparkle had died on a night last fall, and she now knew it was never coming back.
* * * * *
Max brought his Chevelle to a stop in an open space near the Crashdown Café. He turned the key to shut off the engine, but in the silence that followed he sat rigidly in place, staring at the morning light reflecting on the restaurant windows. Time to face his demons. He'd made so many mistakes over the last few months, where did he start to try to make amends?
He climbed out of the car with the memory of his own words filling his mind, a harsh reminder of the mess he'd made of everything.
"I slept with the enemy, then sent my own child back with her. It was the biggest mistake of my life, and I have to live with it every single day."
If the power existed in him, he would take it all back, he would turn back the clock and set the world right again. But hadn't that caused this mess to begin with? His future self, mental giant that he was, thinking that falling out of love with Liz was possible, or that a life without her was even worth living. No, he couldn't turn back the clock, he couldn't take back the things he had done, but he could start making things up to her. There was nothing he could do to help his son, but the most important person in his life was here, and it was time for him to put her first.
Movement inside the restaurant caught his eye. He stared at Liz through the window, watching her sweep the immaculate floor, noticing how her small figure looked tense and withdrawn. She looked tired, like she hadn't slept well in days, and guilt filled him, knowing that he should have called, should have told her what he was doing so she wouldn't worry.
His hand touched the doorknob just as she lifted her head and looked his way.
* * * * *
Liz felt the world stop as soon as her eyes locked onto his. Her hands tightened around the handle of the broom, stilling its movements, frozen in time. Her heart crashed wildly inside her chest, thumping an exaggerated assault against her ribs, while her lungs refused to breathe.
Max entered the restaurant, closing the door silently behind him. The air between them felt so thick he couldn't move, couldn't breathe, couldn't swallow. He stood on shaky legs, the long drive from California had done him in, and the haunted look on her face was finishing him off.
Liz found her voice and broke the strained silence.
"Hi."
"Hi," Max responded, taking a step closer.
She set the broom aside, restless movement to give her purpose, and asked, "When did you get back?"
"Just now," Max waved a hand toward the door, as if that could explain things. He struggled with what to tell her, but she stopped him short when she said her next words.
"You didn't call."
Max felt the accusation hit him like a blow to the chest. The hurt in her voice was palpable. "I was driving all night. I," he struggled with the words. "I just had to get back to see you. I – I'm sorry."
"You can't do this, Max. I love you, but . . ."
Max felt the weight of that 'but' hit him like a freight train. His chest tightened, his stomach churned, his already wavering control started to crumble.
"You know," Liz steeled herself for what she had to say. "Lately, I just haven't been feeling it back."
"I didn't mean to . . ." Max let the words trail off, not knowing what to say. He'd been so focused on finding his son, wrapped up in his own inner torment; he never noticed her slipping away.
"But you did."
"Liz," Max held his hand out, "I know you've been here, alone, waiting for me, and . . . and I've . . . It was wrong." He took a step toward her, a long stride to cut the distance. "I–"
"No!" Liz stepped back to maintain the space. She watched him slump onto a stool, with defeat written all over his face. He sagged under the weight of some unseen presence, making her resolve crack, dissolving in a sea of sympathy. She stepped closer, asking, "What, Max? What happened?"
"I failed," his voice cracked. "And my son," he looked upward, "he's up there somewhere."
Liz moved closer, surrounding him with her arms, unable and unwilling to follow her own better judgment. How could she walk away from him when he was in a state like this? Feeling so much pain.
"I've just messed everything up," he said, body and voice trembling. "Langley's life. Yours. I'm so sorry, Liz." He lowered his head and cried against her throat, "I'm so sorry."
"It's okay," Liz soothed him. "It's okay." She closed her eyes and held him close, pushing her own feelings aside once again. He needed her, and she was going to be here for him. She owed him that.
"I'll never leave you, Liz."
A tear slid down the side of his nose and landed against her throat. The connection it forged gave Liz a series of quick flashes.
Max forcing Kal to shapeshift so he could pilot the ship.

Looking at his ringing cell phone, seeing that it was her calling, closing it without answering.

The ship falling back to the ground, stranding Max on earth.
Liz stiffened and pulled back. She looked up into his familiar face, seeing a man she didn't recognize anymore. "You were gonna leave?"
Max felt her withdrawal before she ever left his arms. He watched her take a step back, separating herself from him, as if his touch had turned her cold.
"Liz –"
The impact of the flash hit her full force. "You were gonna leave, without telling me?"
"Liz," Max tried to explain. "It was my only chance to find my son. There was no time –"
"No
time?"
Liz accused. "No time to tell me you were
leaving
the planet and I might never
see
you again?"
"I told you I'd come back," Max defended.
"You'd come
back?"
her voice rose in pitch, growing louder with each subsequent sentence. "And you expected me to just
wait?
Not knowing where you were? Where you'd gone? When you'd be back?"
"Liz, there was no time –"
"You couldn't even answer the phone for two seconds to let me know what was happening?"
"I'm sorry. Everything was happening so fast –"
Liz turned away, covering her ears with her hands. She couldn't look at him. "I don't want to hear this anymore."
Her earlier resolve came back full force, everything about him reminded her it was time to end things. Now. Before he hurt her any more.
"Liz, please listen. Let me explain –"
"No!" Liz whirled around to face him. "
You
listen! I've done
everything
for you. I've lied for you. I've stolen. I've covered up. All to keep you safe. All to help you. I've gone to
jail
for you. I even carried a GUN for you! And for what? So you could leave me? To fly off to another planet – in another galaxy – without even telling me goodbye? Is that how little I mean to you?"
"You mean everything to me, Liz," Max said, begging her to believe him. "You always have."
"Except when you were screwing Tess!" Liz shouted out in anger.
Max stumbled backwards, absorbing the words like a physical blow. Liz covered her mouth with her hand but she couldn't take the words back. They were out there now, a solid object between them.
"I thought we'd gotten past that," Max said in almost a whisper. "We weren't together then, and you said –"
Liz turned her back to him, one hand on her hip, the other covering her face. She moved away from him, feeling the past sweeping over her like a tidal wave, immersing her in the memories.
"Liz," his voice broke, more afraid now than when he'd come to inside a burning film vault in LA. This wake up call was hitting him where he lived. "You told me –"
"I told you all about why I pushed you to be with Tess!" Liz angrily spun around to face him once again. The dam was broken now, and months worth of pent up emotion spilled from her mouth. "That other version of you knew you so well. A little black top was all it took."
"What black top?" Confusion filled his face. He didn't understand what she was saying.
"I thought you loved me." Her voice started to crack and her vision blurred with unshed tears. She'd lived with the pain for too long, and the weight of it was crushing her.
"I do love you –"
" – but you made love to
her
instead."
Max stared at Liz, unable to respond to that. He had no answer for why he'd done the things he had. He thought they'd moved beyond this, but they'd only swept it under the carpet, hiding from it, never coming to terms with it.
"I can't take back what happened, but my son –"
"Your
son,"
she echoed his words with bitter resentment. "Every time you mention 'your son', I'm reminded of what you did. How you were unfaithful to us. How can you not
know
that?" Her hands fisted at her sides, hiding the green energy that sparkled over her palms.
"I . . . I thought . . . you told me you understood. When you said you wanted to help me find him…"
Liz turned her back to him, unwilling to let him see her cry.
"Liz," Max moved closer to her. "I've always loved you. I never stopped. Even when –"
As soon as his hand touched her shoulder she stiffened and bolted away from him.
"I can't do this anymore," her voice quivered, trying not to cry.
Max listened to the sound of her pain, dying inside, knowing he was the cause of it. She was the one person in the world that he never wanted to hurt, yet that's all he ever seemed to do. He'd once held everything he wanted in the palm of his hand, and now it was slipping through his fingers.
"I felt guilty," Liz said, dragging her hand though her hair. "For the lie with Kyle, for pushing you away, for almost getting you killed. I felt responsible for pushing you to be with Tess . . . for the outcome."
"But you know Tess didn't mean anything to me," Max said, moving closer, trying to explain actions that even he couldn't understand. This last year had been the darkest time of his life, and only now could he see the light.
"You created a child with her. A son. He's your first priority now. I'm just an afterthought."
"That's not true," Max denied it. "You always come first."
Liz looked at him finally, shaking her head slowly. "You've changed, Max, and you don't even know it. I haven't been your 'first' anything, not in a long time."
Max swallowed hard, feeling her words eating at his soul. She was breaking his heart with the finality in her tone, but he realized she was right. He'd told her that he loved her, but he never showed it with his actions. Only now could he see the distance that had grown between them. She was pulling away, and he didn't know what he could do to stop it.
"Liz . . ."
If she would only give him one more chance. He could prove to her how much he loved her. He could show her that she hadn't been wrong to believe in him. He could make up for all the pain he had caused her –
If only she would give him one more chance.
Liz stood with her back to him, looking downward, fiddling with the pocket of her silver apron. "I told you I'd help you find your son, and I will. I owe you that. But," she turned to face him, lifting her haunted eyes up to meet his, "that's all I have to give right now. Don't ask for anything more."
Max drew in a sharp breath. "Wh – what are saying?"
Looking at his devastated face was more painful than anything she'd ever experienced, even worse than after the lie with Kyle. This time it was really over. This time she knew there was no hope of working it out.
"Go home, Max. There's no reason for you to be here."
Max stood in the middle of the Crashdown watching Liz walk away, devastated by what she'd said. His mistakes had cost him all his dreams, a lifetime worth of hope now stripped away, leaving nothing but a gaping hole behind. His deepest fear had just been realized.
He'd lost her, this time for good, with no one to blame but himself.
I never really wanted you to see
The screwed up side of me that I keep
Locked inside of me so deep
It always seems to get to me

I never really wanted you to go
So many things you should have known
I guess for me there's just no hope
I never meant to be so cold

Cold
Crossfade
Author note: For those who might be interested, I'll be having an author chat at DAS on Thursday, July 27th, at 10 pm est. Please join me there!