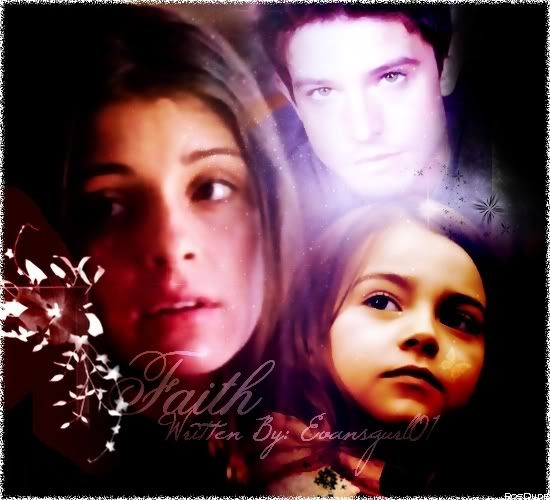 Thanks to RosDude I have this beautiful banner!
Title:
Faith
Disclaimer:
Don't belong to me. Wish they did but they don't.
Rating:
Mature/ Adult
Couples:
M/L, M/M, K/I
Summary:
Liz Parker was raped at the tender age of sixteen resulting on a beautiful daughter. Liz was scarred both physically and emotionally. Will she be able to conquer her fears and find love?
A/N: I know I should be the last person posting another story when I've got three out already but I couldn't help it. This has been on my mind for a long time and I've been dying to post it. I'm going to try and catch up on my other stories soon.
Prologue
"Stop it!" she cried.
Liz struggled punching and kicking any part of his body that she could reach. He bared his teeth at her and slapped her hard across the face. His dark hair was disheveled and his hazel eyes were narrowed in anger.
"Shut the fuck up bitch." He snarled.
He slapped her once more before pulling out a pocket knife. Liz's eyes widened in fear and she struggled even harder.
"No!" she cried holding back the tears that were threatening to spill.
He held her wrists tightly above her head and ripped her shirt open with the knife. His hands came down roughly on her breasts and twisted them hard.
"Ow!" The tears finally came and ran down her face as he mauled her.
Ripping off her bra he laughed harshly. "You wanna be a teasing little slut than you're gonna have to pay the consequences."
Liz watched in horror as he slid the blade of the knife on her stomach and breasts.
"I wonder…" he said looking into her wet face. "How many dates your going to go on after I'm done with you."
When the tip of the knife started to cut into her flesh Liz let out a loud piercing scream before finally seeing darkness.