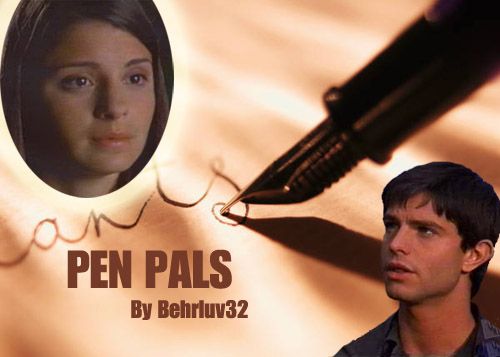 Title: Pen Pals
Couples: M/L and general CC if I can fit it in somewhere
Rating: Don't know yet Mature maybe Adult Content
Disclaimer: You know I don't own them so don't even ask, but I do hold a special place in my heart for a certain Jason Nathaniel Behr. I want to think I own a little of him, in my mind anyway and in this story as Maxwell Evans.
Summary: Maxwell Evans, a local kid from New Mexico, was always very secretive and never hung out much with anyone, except his best friend Michael and his sister Isabel. The only other person he ever really spoke with was a pen pal he had kept since a third grade assignment paired them up as such named, Liz Parker.
Side Note: Amy Deluca owns half of the Crashdown Café, but she still lives in the house she did on the show and just rents out the apt. above her.
Prologue
October 1999
Walking into the hallways of West Roswell High, Liz Parker braced herself, took in a deep breath to calm the butterflies that chose her stomach to do somersaults in, and took the long walk into the principal's office with her mother, who had to sign the last of her papers to transfer Liz into this new school.
"Calm down honey, it's not like you've never been to a new school before," Nancy Parker said to try and placate her daughters nerves.
"Yeah, but it was never across the country in the fucking boondocks," Liz mumbled beneath her breath.
"We are not in the boondocks and watch that mouth young lady, especially in school, you know better. Don't worry you are going to have fun. It's a new adventure, aren't you the one who always wanted to meet new people and see new places, well here you are," Nancy said with what Liz viewed as a hint of sarcasm.
"It's school mom; it's hardly backpacking through Europe. Can we just get this over with? I'm already going to be late for first period and... it's the middle of October! You'd think you could have at least waited till January to move me out here. God even this past September, but no, not only do I have to be the new kid but I have to be the new kid coming in a month in a half into the semester," Liz complained.
"Listen, first you know that it was not that simple; and second, you would find the colors of the school as something to criticize as long as you had your little moment to vent. If you need to get this out your system now do it and we can continue at home later, but once we get into that office you start your first day of school, so I better not hear any complaints about a sulking daughter. Moving here was a great opportunity for me and it can be for you too, if you let it. Now let's get you registered," Nancy preached as she opened the door to the main office.
What Nancy did not know was that Liz really wasn't scared about moving to a new place. Truth be told, Liz liked her old school, teachers, and friends, but she was really excited and nervous about meeting the gorgeous Maxwell Philip Evans, for the first time in person. The last time Liz wrote to Max she told him she had a surprise for him but that was three weeks ago. Since the 4th grade when they switched from writing letters to one another as a school assignment to writing e-mails because they wanted to keep in better contact, they have never gone one week without either writing, or since they found out about IMing in the 7th grade, IMing mixed into their weekly letters. Now Liz was not really sure if Max went to East or West Roswell High so she knew she had a 50/50 chance of running into him but she couldn't help but to hope. She could not wait to see Max; he was really her closet friend and confidant. She knew he'd probably be worried that she had not been online in almost a month. Even through her parents divorce when she was in the 8th grade, it was Max, over 1500 miles away, who she turned to, actually that was the first time they spoke on the phone.
***
October 1997



MaxsPP:

Max I really need to talk 2u.


LizsPP:

lol, Liz u r talkin 2me


MaxsPP:

NO!!! Max I need som1 to speak w/rite now

…please not just writin dis time


LizsPP:

Oh… ok yeah… yeah of course u know we can speak any time, any time Liz.


LizsPP:

here, my fone# is 505-565-5525

Nervously dialing the numbers Liz was anxious to not only finally speak to Max, but to pour out her soul to him as well. As the phone rang she wondered what his voice would sound like. She already knew how handsome he was, since every year they made sure to send each other their school pictures and another more casual picture by mail, and last year they each asked for printer scanners for Christmas so that they could send each other pictures online also.

*Ring *Ring*

"Hello," Max, Isabel, and Diane Evans said in unison when picking up the phones.

"Hey," Liz's sad and tentative voice said.

"Mom, Izz, it's for me you can hang up," said Max.

"Really Max sweetie is that Michael," questioned Diane, although she highly doubted it. Even though these boys were going through puberty she distinctly heard a female voice on the other line.

"That's not Michael mom," intruded Isabel.

"Uh uhm no…not, I mean no I am not Michael Mrs. Evans and Isabel apparently. Just Liz, uhm ma…ma…ma…(cough)sorry may I please speak to Max please," Liz stuttered.

"I GOT THE PHONE!!! GET OFF," Max yelled.

"Liz? Liz who? I don't know any Liz. No you cannot speak to my brother," Isabel rudely stated.

"ISABEL AND MAXWELL EVANS, seriously screaming across the phone, where do you two think you were raised? In a barn? Now, Isabel hang up the phone immediately," ordered Diane.

"But, Mom," whined Isabel.

"Now," Diane ordered.

"Oh my God," whispered a highly embarrassed Max Evans as his mother and sister continued on. Liz could already picture the blush on his cheeks.

"Will you both please just hang up the phone," Max pleaded. "It's fine. I got it. It is just my friend Liz, okay. Look, say hi Liz."

"Hi Liz," Liz giggled.

"Yes dear and we're sorry. Aren't we Isabel? And we are going to hang up now and let you two speak," said Diane as she hung up.

"Yeah, whatever, but we are talking after this Max and I am calling Michael," Isabel said as she hung up.

"Wow, what was all that about," giggled Liz.

"Oh God Liz, I'm so sorry. This is really embarrassing. God could they be any…"

Liz cut off Max's babbling with her uncontrollable laughter and giggles, "Oh Max, thanks, thank you I really needed that," confessed Liz.

"Uh, okay…I'm not really sure what I did but as long as you are happy and laughing it's okay by me."

Wiping the tears of joy that replaced her earlier tears of sadness Liz began to speak again, "Wow you have a really great voice Max. I knew you would. I really needed someone to take my mind off of everything that's been going on here. Thanks for giving me your number. I don't know why we never exchanged numbers before." Letting out a sigh and another nervous giggle Liz waited with baited breath for Max to stop her from rambling on.


~~~
Max has been in love with Liz since the moment in the third grade when he got his first letter and picture from the one and only Elizabeth Claudia Parker. His guidance counselor assigned Max into the pen pal program the school psychologist, Ms. Peperstine, set up with a New York school where her brother was the Principal. Ms. Peperstine set it up as a mandatory program for children they felt had problems with shyness or opening up as a way to make new friends and to help them improve their writing skills, then left the program open for anyone else who wanted to participate.

After Max read his first letter and took out the picture to look into the most beautiful brown eyes he has ever seen Max was hooked. He was a little disappointed he hadn't put much effort into the first letter he sent out to her, and made sure that the next one was extra special and had even sent her a new picture. It was a special picture of him from that past Christmas. His mom had a professional photographer come to their home and take pictures of the family together and separate as well. He sent out his best picture and was so anxious to know what Liz thought. But at that moment, all Max could think of was that Liz, his Liz, thought he had a great voice.

"Uhm uh, thank you, your voice is the best too, I mean it's really pretty you have a pretty laugh, it's beautiful," Max whispered the last part. He wanted to say, almost as beautiful as you are, but he lost his nerve.

If Liz hadn't been hung on every word he just said she would have missed it. Liz was so glad she was on the phone right now so that Max could not see how red her cheeks were burning or how much she wanted to jump for joy that Max thought any part of her was beautiful, even if it was only her voice.

"Thanks," she finally whispered back.

What seemed like an eternity later but was probably only mere seconds Max spoke again, "So uhm, you sounded pretty upset online. Is something wrong? What happened? Are you okay? Can I do anything, anything at all for you? You know besides having my family practically attack you over the phone and having you laughing at my embarrassment?"

"You know that was funny though? I don't think your sister likes me very much and I have never even spoken to her before. I guess she doesn't know about me huh," asked Liz.

"No. I tell my sister practically everything but she'd probably think this was dumb. Watch as soon as we get off the phone she's going to come barging in here with Michael asking 101 questions, but Michael already somewhat knows. He found my stash of pictures of you one day when he slept over and a stash of letters and emails we've written over the years. He'll probably tell Isabel something, at least to get her off my back a little bit anyway.

"Oh." Liz was so excited. He actually kept everything just like she had.

"Well, anyway I called because I, well my parents that is, they just told me they are getting a divorce. I uhm wow, this is hard I'm sorry… but my dad I think he was having an affair," she mumbled the last part under her breath.

"I'm sorry Liz. That's horrible," he said as sincerely as possible.

"No, don't be. It's not your fault. You know, I thought I wanted to talk about that, but I really don't anymore…"

"Oh, okay I understand if you don't wanna talk any more. It was good talking to you..."

Liz cut off Max before he ended up hanging up on her, "Max…Max, stop," Liz said giggling. "I didn't mean I don't want to talk to you any more just a change of topic. Just, talking to you makes me feel better. You make me feel better. You have that healing touch when it comes to me," Liz said with a laugh.

Max could not have been more ecstatic, elated, and just straight happy, He makes Liz feel good. "You can speak to me any time, write me, call me, IM me, e-mail, whatever you want Liz. I'll always be here for you," Max said. He wanted to make it crystal clear to Liz that he would always be her friend.

"You know you're my best friend. I can talk to you about anything," admitted Liz.

"I feel the same way," Max felt a little bad about lying. As much as he cared for Liz, loved even, he could never tell her the whole truth about him. She would think he was a freak, but right now just talking to her on the phone or writing her he was a normal guy and her, a normal girl just having a conversation. "Liz…
***
"Liz it's a pleasure to meet you. I see you are an honor student and we expect no less of you here at West Roswell High."
"Liz? Liz… LIZ! Where did you just go there honey? The principal was talking to you," said Nancy a bit concerned by her daughter's 5 minute spaz.
"Oh I'm sorry it was… I was just thinking that's all. What did you say?"
"Just welcome and your guide will be here any second now, her name is Maria Deluca and she will be your guide for the week. Maria will show you around the school, help you become more acquainted with your surroundings, and show you where your first class is. Here she is now."
A short haired blond girl, with lips that could rival Angelina Jolie's, and a style that could probably be described as hippie chic, with black bell bottoms a bright blue Madonna shirt (the paintings not the singer) walked into the office. With a bright bubbly smile she introduces herself and dragged Liz out of the office and towards her next class.
"So, Elizabeth Claudia Parker, where are you from? Do you know anyone here in ole Roswell? Oh, and is there something shorter you'd like to be called by, Eli, Liz, Lizzie, Beth, E.P? What?"
"Liz, just Liz is good. I'm from New York originally, then New Jersey, and now New Mexico I guess. So, how did you get stuck showing the new kid around? You lose a bet or something," asked Liz trying to turn the questions away from herself for a bit. All Liz really wanted to know was if she knew a Max Evans and whether or not he went to school here, but she didn't know how well Maria would take the bait.
"Hah, I like you already. You've got spunk," Maria said with a wink, "I always wanted to go to New York. I'm going to be a professional singer someday, probably hit New York a lot, but I think I'll start off at a smokey Vegas night club. You should come by and see me perform at the Pizza Pan someday. Plus, I have a feeling we'll be seeing a lot of each other. Your mom and you moved into the place above the Crashdown Café right? My mom is Amy Deluca, she owns that restaurant along with your mom I guess. I waitress there, you should work there too, we really need the help if you can. We're gonna have to ask the parentals how this arrangement came to pass. And no it isn't really volunteering, this gets me out of bio for a little while, not to mention excuses my lateness from other classes for a week, that is if you don't mind being my excuse, and I get extra credit in gym, so I can afford to sit out on a class or two when the case arises. You know. Plus, it'll be fun. I'll show you around, show you all the hot guys, all the basic high school stuff."
Already liking the blond, who hasn't really shut up since she met her, Liz found it easy to begin to open up to her, well if she ever got the chance. "Hey Biology is my first class too and my favorite," exclaimed Liz but then felt a little awkward about sounding like a nerd.
"Cool maybe you can help me out there every so often. My best friend, Alex Whitman, is my lab partner. He's pretty good in class, but computers are more his thing. Here we are, and fair warning Ms. Hardy is cool and all but she's gonna ask you to introduce yourself and the whole nine before assigning you a partner. There's only one group with a pair of three, so she'll probably split them up and give you one of them," Maria said as they walked into the classroom.
"Great," Liz drawled up sarcastically, "It's fine. I got it covered," Liz said the last part more to herself, but she never got the chance to ask about Max. 'Well maybe in between next period' she thought.
***
"Well, who do we have here? Are you a new student," asked Ms. Hardy with a cheesy smile plastered on her face.
"Yeah, I'm Liz Parker."
"Ms. Parker, would you like to begin today by introducing yourself to the class and maybe telling them a little about yourself?" Ms. Hardy said a little too loudly.
Maria just snickered and coughed an "I told you so," as she walked to her own desk.
"Nope," Liz said easily as she began to walk towards the desks leaving a slightly stunned biology teacher behind her.
Spotting the first empty desk and walking directly to it, Liz was stopped by the sound of a familiar voice calling her name. When she looked up the most beautiful honey eyes and the warmest smile, she had only ever seen through a picture, was greeting her in person.
***
"Liz," Max barley said her name louder than a whisper, thinking he must be day dreaming or something... anything, but this couldn't possibly be happening, could it?
"Liz," he said again more forcefully than before. He then shot up off his desk, sprinted the two steps over to Liz, and swooped her into his arms.
"What are you doing here? When did you get here? Why didn't you tell me you were coming? Why haven't you written or called, it's been three weeks. I've been so worried that something bad happened? Was this your surprise? Is this permanent," he fired question after question never once freeing Liz from the bear hug he had her in.
"Surprise, Max! Does this mean you're happy to see me," Liz asked with the biggest smile on her face and completely missing all the looks she was receiving from the rest of the class. They all wondered who this new girl was and how she managed to know and get such a passionate response out of the mysterious Max Evans.
She began pecking Max with soft kisses on his cheek as she said, "And if you would stop and breath for a little bit, I may answer some of your questions," with a slight whisper into his ear, while still holding onto Max so tightly she was sure one of them would pass out from lack of oxygen.
If it wasn't the hollers and applauds from the rest of the class that got them to come apart it was defiantly the following words of the teacher, "Well it's obvious that you two know each other so you can be partners, but this is a classroom and I have a lesson to continue if the two of you don't mind that is."
Red faced, and a little more than embarrassed that he would do that in front of everyone in class, Max retreated to his seat dragging an equally red faced Liz along with him, never once letting go of her hand.
"We'll talk when class lets out," both said to one another and then laughed.
Liz continued, "Yeah that sounds like a plan to me."
"There's this place called the Eraser Room, we can talk there it's...a lot more private," Max said praying that he won't lose the nerve to do a lot more than speak to his long time friend.