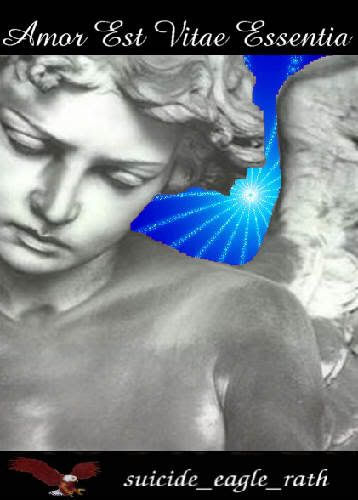 Title:
Amor Est Vitae Essentia
(Love is the essence of life)
Author:
suicide_eagle_rath
Disclaimer:
The characters belong to Melinda Metz, Jason Katims, WB and UPN. They are not mine and no infringement intended. I am only attempting to finish a riveting story from one point of view.
Rating:
Mature for the "sexual theme"
Pairings:
CC / ML
Summary:
A humble offering that looks at the love between Max and Liz from another perspective, that being the ancient element immortalizing the very essence of love itself.
Elegy One[/b[/center]
How is it that I have come so far from that which is my very essence, my very soul to write now of the love of blood-soaked battlefields and conquests of vicious warfare than to enchant the heart with a love philter. Once so long ago, centuries past when mankind was naive, compliant to the ways of love, I did flex my arms drawing the bow tight, letting the arrows flow freely into mortal man's sub-concussions.

As it is to be expected, life like all things had grown complicated with the eternity of time. Mortal man no longer fears Mount Olympus nor enjoys the benefits of Aphrodite herself. Love has become an intangible painting, lusted after in the halls of their new age homes across the seas and lands. There are none living who compel me to take up the bow again, to sooth man with adoration, bringing forth the Muses who color this unanimated spiritless existence with wit, verse, and erotica. Such is the burden that I now carry upon my shoulders, my bow and quiver stand in the corner, dust and cobwebs collect on the dulled once pointed tips.

Funny I now see how true the words are that spoke forth form the ink of Apollonius Rhodius, who wrote in Argonautica his masterpiece displaying Jason in his heroic need to obtain the Golden Fleece. It is as if he predestined my downfall from grace, my path to the underworld, evil, vile, powerful forces that consumed me, that ate at my mind until it was but a shell of former glory. He wrote of me, "Ruthless Eros, great bane, great curse to mankind, from you come deadly strife, lamentations and groans, and countless pains as well have their stormy birth from you."
Elegy Two


Who calls me forth to demand of me to return love to the world? Zeus who has been so vacuous in self for these many centuries remains silent on the throne, his voice now muted for no devotees speak in his name. Aphrodite cannot be the genesis of who called me forth for she has been transformed from the voluptuous sensuality of pure art, the personification of pleasure and desire into a weapon wielding, cud chewing, dipsomaniac Amazonian. Who is it then that hast disturbed my rest, my slumber that I so richly deserve after centuries of faithful service.

What is it of my concern if the world has fallen so much? Why should I be of concerned that those that are of flesh and bone can no longer hear the call of the immortal heart beating, the rhythm of the ancient songs? Nay I will hear no more, go forth from me and take your damnable conciseness and morality with thee.

My ears! Soften the voices; I can take no more, ah, so be it, I Eros yield to those who call, and those who demand my punishment at the hands of these fool mortals. From them I am to learn a lesson, the essence of love, the essence of life. What is the use of fighting the enviable, I am but a poor captive enslaved in the chains of mediocrity. I bend the bow to my knee as my nimble fingers once again strung the ligament to stretch tightly from end to end. My quiver I place upon my back, the tips freshly polished, new fletching, thus I equipped the shafts to make their path true and straight.
Elegy Three


My path, I make true and straight as well, from the treacherous descent from Olympus as once again I scurry though the masses, looking for the two that I have been apprenticed to learn from. The world had grown so large in the centuries that I slept, so many now occupy so little. I feel the pain, the longing for hope, the dismal reality of their fated lives. As I search among the countless faces, I can no longer sense the soul, as the body blooms and fades away; there is no vessel now to hold the fragile gift of love.

Pardon I seek that which I have been damned to seek out, but I beg pardon at the sight of my tormentors, those who are burdened with the task of creating me anew. They are but children themselves, their eyes have not yet seen, their lips have not yet kissed, their souls have not been approached. I am to learn from these two the art of love, to bring that element back to man?

What farce is this? That I shall lie as the last victim to a failed concept of love, fresh with new wounds, forever active, held in fetters bound so tightly, my very being crushed in their grasp. How from these virgin bodies will I again acquire the sensuality of love, the erotica of lust; that pleasure of which is called intimacy, love's interaction.
Elegy Four


Look at these pitiful creatures bound in flesh, do any of them know the consequences of love, do any care? Ah, there sitting there looking like a forlorn puppy, the man of my immortal twosome, the Romeo of fame. And what am I to learn from him, what can he teach me the god of love whose very name means sexual desire, who was celebrated as the symbol of fertilely equated in time and stature to that of Chaos.

This quest, that I have been commissioned to forcibly accept is a fool's quest. Surely, those whose voices echo so predominantly must agree. Look at him, wide-eyed innocence himself, not a man, not in this epoch. Yet in his eyes, those crystal clear eyes, I see something, qualities of long forgotten existence, as if he had lived before. I will do as I am required, but nothing more, for less in this case is most worthy.

How strange to be inside a mortal body again, to feel sensations, to smell, to look through the eyes differently, yet identical to mine own. Such a new world this mortal being lives in, so full of hatred and evil, yet he still has that one spark of romance left, a hopeless case, a treasure that is fresh to behold. What is the cause of this spark, surely there must be a primer.
Elegy Five


Why am I drawn to she who walks there yonder? That one there dressed in the raiment of a scullery maid rather than that of a queen, one who is to be the archetypical model of love incarnate. A sapling, in mid-spring, like a wood nymph so young and fresh, innocence abounding yet her mind is cautious knowledgeable a trait that is a rarity to be found.

What a noisy place this commerce of eating that has me entrapped, but I listen not to the voices that surround me but to the beating of this mortal heart, the yearning of his soul to become one with her, this naiad of mortal flesh that has composed his dreams. How is it that without my arrow of love he has gone forth and found true love on his own? From first sight, he grasped her in his thoughts, unyielding in his devotion waiting the time for their souls to come together.

Is this what I am to learn, the love of a man, so passionate, so pure, so rich in complexity so much like life itself. Is this my punishment, to remember what I felt like, to remember those I loved, did love, lost to love. How my own soul aches, the suffering and torment of a million lost loves rips through my essences as I am forced to gripe the terror of my lack of positive reinforcement through my despicable inaction. How can this Max, this being hold so much promise, so much love for this simple girl.
Elegy Six


Thunder, I hear thunder snapping across the room, screams of panic as if a battle had commenced. I smell blood in the air, the stench of death has come quickly, but to whom. Instinctually I look to the lover, to the foundation of this essence, to the life, lying still upon the ground, breath ebbing from her anthropoid form.

The heart that I have adopted is beating so fast, the mind races as this body rises to flee to his lady. To undo what has happened, to instill love into her heart, to endear himself to her soul. It is strange I find myself shocked at the actions, as one who is with me holds me back, I am angered at being held against my will against that which is foreordained, that which must happen.

In the distance, I hear Thanatos death himself approach. "Nay! Stay back!" I shout to him, "Nay she does not die that which has been deemed to live, to return love to the world through his actions today and her sacrifice in the months to come." Thanatos stopped, staring at me, no pity does he envision, no words can persuade him to retreat as he begins his gathering of her soul. "Nay," I shout again, "it is a love of unequal. It is a love that must remain. Stand back. Let the events unfold, let their love give back to mortal man the essence of life, the essence of love."
Elegy Seven


My demands went unanswered as I found myself standing over this slender graceful young woman, a true sylph as she began to return to the elemental being that would inhabit the air. So pale was her face, so red the blood that seeped from her ivory skin. Then he whose body, I now occupy a small space thereof, that which is called Max did with the strength of a god, healed her wound, a feat that even he himself was unaware of how it was accomplished or the full ramifications of his actions on future events.

As she came back to consciousness, his mind in melding with hers, took on a new aura, as he replayed visual descriptions of her, at a tender age, as the bloom of life yet had not opened. This was the time of his love; the very moment love had stolen into his heart. I found myself jumping like a schoolchild with joy as I turned to Thanatos, my voice screamed "Io Triumphe!" only to find he had vanished with the wind to another that needed gathering.

As the love of this one called Max, came to life I was pulled away, out of the noise and into a machine of great speed. I wished to stay. I nudged the Max into staying; do not take me away now I pleaded in his mind. I must know more, I must feel what she feels, this Liz of his dreams. I have just begun to relight the flame; there is so much more I have forgotten. This one act of sacrifice, in which this body that hold the soul of Max did, putting his very existence into danger so that she may live, enticed me, feed me a single drop of ambrosia. I now craved more, I desire more, I must learn so that I may return to Olympus and put right what is wrong. Return the world to Love and through Love to the essence of Life.