Moderators: jbangelo, Forum Moderators
---
Enthusiastic Roswellian
Posts: 32
Joined: Sun May 29, 2005 6:39 pm
Location: Mass
Contact:
I don't know why but I never liked Sean and I didn't like him with Liz at all, thats just my opinion though.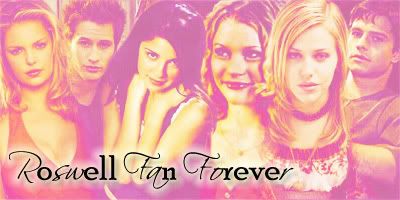 ---
---
---
---
---
~*Sonia E.*~ wrote:I've read it also and I can't wait for the next part.
Ditto!!!!
---
---
Didn't I ask if I would be murdered for not having a happy ending before I posted? I spent hours trying to rewrite it from memory since the net ate it the first time. I don't know quite how the fic would go if they actually did hook up. I thought about it but not very seriously. If I wrote another part it would not have any actual resolution. It would just get them in the same room at the same time with the possibility of a talk. You were all warned though. le sigh.

I do appreciate everyone reading it though. I sheltered it for a long time before I posted it. I'm glad everyone liked it. '-)

DM
---
~*Sonia E.*~
No, that's fine and I still don't want to murder you.

I really enjoyed the two parts and Sean and Liz didn't have to have a happy ending. I know that everything is not all sunshine and roses and the way you ended it was perfect. Sean and Liz didn't have an ending at all on the show because he disappeared into thin air.

I'll just have to read your other stories to keep me intrigued.
---