Under NO circumstances can anyone under the age of 17 read or participate in this RPG. NO if's, and's or buts...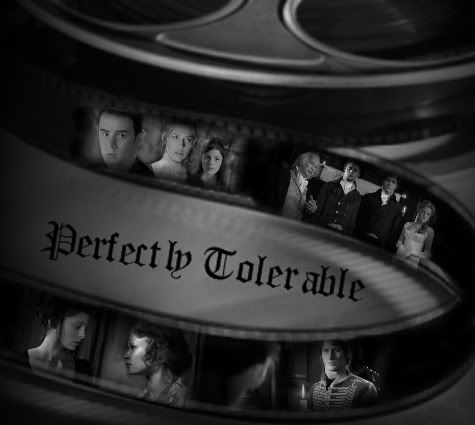 Title: Perfectly Tolerable
Disclaimer: The characters of "Roswell" belong to Jason Katims, Melinda Metz, WB, and UPN. They are not ours and no infringement is intended. This idea is loosely based on Jane Austen's Pride and Prejudice. Sebastian St Vincent is taken from the book Devil In Winter by Lisa Kleypas
Couples: CC plus Tess and Sebastian
Category: AU
Rating: Mature
Summary: Set in England of the late 18th century, this is the story of the Middleton sisters and their misadventures in husband hunting.
Name: Maxwell Evans
Age: 26
Bio: Mr. Evans is a friend of Mr. Sebastian St. Vincent, the Duchess's nephew. Mr. Evans is a perfect gentleman. However being a perfect gentleman means having expectations. Perfect gentlemen do not marry outside their own class. They do want is expected with no question ask. Mr. Evans is extremely shy whenever there is a lady in his own present. Mr. Evans turns red whenever he is spoken to by a beautiful woman that has caught his eye. Mr. Evans talks mostly to Mr. St Vincent. Mr. Evans is loyal to his best friend Mr. St. Vincent. Mr. Evans has only one family present in his life and that is his younger sister Miss. Isabel. He loves her dearly and only can be his true self in her present of her company. Other than being shy from outside from his friends and family, Mr. Evans is the funniest, friendly person you could ever meet. He would make you laugh whenever things get too serious to handle. Mr. Evans is indeed a charmer.
Name: Elizabeth Middleton
Age: 21
Bio: Miss. Elizabeth comes from a lower class family. She is the oldest out of her two sisters, Miss. Tessa and Miss. Maria. She is very close to Miss. Tessa. Miss. Elizabeth is extremely shy and hardly ever shows her of her emotions to anyone. She has to be. She is the oldest and needs to be strong for her sisters. Miss. Elizabeth loves reading. She also loves the rain, she spend most of her time out doors. However, being the shyest person in her family Miss. Elizabeth loves having her fun. She loves going to balls, and dancing with most of the eligible bachelors in town. It is what makes life so fun for her.
Mr. Evans and Miss. Elizabeth meet the first time at his ball he was holding. Theirs eyes met from the across the room. Nevertheless, either of them is too shy to even speak to each other, yet even meet each other. They did indeed like one another very much. But never persuade their feelings toward each other because of the involvement of everyone into the relationship both refused to persuade from one another.
Name: Maria Middleton
Age: 18
Bio: Miss. Maria is the youngest out of her two sisters, Miss Elizabeth and Miss Tessa. Miss. Maria is different from her two sisters, she is the wild sister. Miss. Maria is always doing something that she is not supposed to be doing. Miss. Maria never watches her tongue, just like her sister Tessa. Miss. Maria secretly looks up to Tessa, and was to become her. Miss Maria plays the piano beautifully as well as sings, and her parents adore her musical talent. It is certain her mother does. That is one aspect her mother done well. Every lady should have some musical characteristics to show for. At balls, Miss. Maria can be too forward. She dances with each eligible bachelors and tells them they should be married without really know if she likes them or not, just as long as they are married. Miss. Maria believes in her mother's words, young girls should be married young and that is what she plans on doing.
Name: Michael Westcliff
Age: 27
Bio: Mr. Westcliff is a solider of the army. He isn't as gentleman as Mr. Evans or Mr. St. Vincent, but he does know his matters and where he stands in his position. Mr. Westcliff isn't as pleasant as he looks. Mr. Westcliff isn't a man you should cross when he is upset. He can be very aggressive at times. Mr. Westcliff has two sides of him: the mean and aggressive that isn't as pleasant, and the gentleman that he is as pleasant. Mr. Westcliff indeed knows how to treat a lady and makes them feel very special. Mr. Westcliff doesn't have much family. He is indeed the cousin of Mr. St. Vincent, and knows the Evans very poorly. Mr. Westcliff doesn't even like his cousin much. Mr. Westcliff only spends time with Mr. St. Vincent because he is the only person he knows in England. However, Mr. WestCliff does for fun is paint. He is a wonderful painter, and wishes he could pursuit painting but he couldn't because his country wants him to fight for his country along with his deceased parents.
Mr. Westcliff and Miss Maria have also have met on the dance floor. She saw him standing in a corner, watching everyone dance. She simply goes up to him and told him that they were going to dance. At first he was startle by her attitude, but soon grew accustom to it. Mr. Westcliff as never been in love before and Miss. Maria is surely the first woman he ever had been. Soon after they admitted their feeling for one another, both Mr. Westcliff and Miss Maria Middleton run away together to get married. This has the whole town talking, along with his cousin St. Vincent.
Name: Tess Middleton
Age: 20
Bio: Being strong willed, stubborn and twenty is no way to go about finding a husband according to Mrs. Middleton. Sadly, Tess Middleton is far too set in her ways much to her mother's dismay. The middle child of three daughters, Tess is the daughter that is normally overlooked. She isn't as beautiful as her older sister, Liz or as accomplished as her younger sister, Maria. She is smart and witty but that is hardly a quality that most men want in a wife. She also has a nasty habit of speaking her mind in the most inappropriate places. Well, Mr. High and Mighty St. Vincent believes it to be a nasty habit or so Tess is lead to believe. She had never met a man who has found her so wanting in every aspect of her life. Offended and more than slightly amused, Tess has decided that Mr. St Vincent is the most unbearable and pompous man in England. One she intends to avoid at all costs.
Name: Isabel Evans
Age: 22
Bio: Isabel Evans is horrified when her brother suggests that they move to the countryside for a few months. London is all Isabel has ever known and she doubts that the country bumpkins can amuse her as much as her high society friends. There is nothing glamorous about the English countryside but Isabel is willing to suffer if it means that she can make sure that no fortune hunting Jezebels get their hands on her brother and his excellent friend, Mr. St. Vincent. Although, Isabel once had designs on St. Vincent, she quickly grew out of the idea. She is searching for a husband who will not control her or really spend anytime with her at all. Unlike most woman her age, Isabel doesn't feel any rush to marry. She has a small fortune of her own and has no need of a man.
Name: Sebastian St. Vincent
Age: 27
Bio: Sebastian St. Vincent was born into a life of privilege and with that privilege came a certain amount of pride. His pride doesn't make him a bad man. He knows his place in the world and he is comfortable with it. He cares a great deal for Max and Isabel even if he doesn't always show it in the right way. He considered them to be his family. When Max suggests a trip to the country, Sebastian agrees instantly. He is so bored with the husband hunters in London. He longs for a little peace and quiet but instead finds himself drawn into a whirl wind of something unnamable when he meets Tess Middleton.
Name: Alexander Middleton
Age: 26
Bio: Alex Middleton is the Middleton sisters' cousin. He is set to inherit their family home when their father dies much to his aunt's dismay. Alex has tried everything in his power to reassure his aunt that they will always have a home but his words fall on deaf ears. He doesn't visit the family often because of his Aunt's nerves and the effect that he has on them. He likes his cousins and wishes that he could spend more time with. They are like the sisters he was never blessed with. It is during one of his rare visits to the Middleton house when he meets Miss. Isabel Evans. He has never met a woman like her before and is enchanted by her. He decides to prolong his stay at the Middleton's so that he might get to know her better.
Couples
Max/Liz
Michael/Maria
Alex/Isabel
Sebastian/Tess
The Cast:
Max - Dream Weaver
Michael- Crystalbehr
Alex - alizaleven
Sebastian - alizaleven
Liz - Dreamer_Dreaming
Maria - darkness_within_me
Isabel - Dreamer-laure
Tess - ~Ruby~
Rules
• Please do not take a character unless you are willing to post.
• Please post at least two paragraphs for your character.
• Please reread your post before you post it, checking for typos and spelling mistakes. If your post is riddled with mistakes, I will ask you to correct them!
• Have fun!

Written by:
Dreamer_Dreaming
and
~Ruby~