I`m Steph. I just turned 21 in March, 2011, and I live in Montreal, Canada. I`m a HUGE Roswell fan. Been a fan since 2000 and joined this board in 2001 as
Dreamer_Forever13
. In 2004 I changed my username to
Buffsteraddict
.
I love writing. And Roswell. And a huge fan of Buffy, Charmed, One Tree Hill, CSI, Bones, The O.C, and quite possibly every reality show out there. I`m also a very big music fanatic. Taylor Swift is my inspiration.
Recently I decided to start writing again when I had this idea for a crossover that was stuck in my head and I couldn`t stop thinking about it; so I decided to post it. It`s crazy to say that it`s been almost 13 years since Roswell first aired, and it`s even more amazing that this board is still up and running after so long.
This is my little section where I get to post all my fanfiction and all my ideas. So feel free to check it out. I`m also leaving my twitter and tumblr url so you guys can reach me either on here, or on twitter and tumblr.
http://twitter.com/StephUnderwood
http://stoodthereandwatchedyouwalkaway.tumblr.com/
*******************************************************************************************************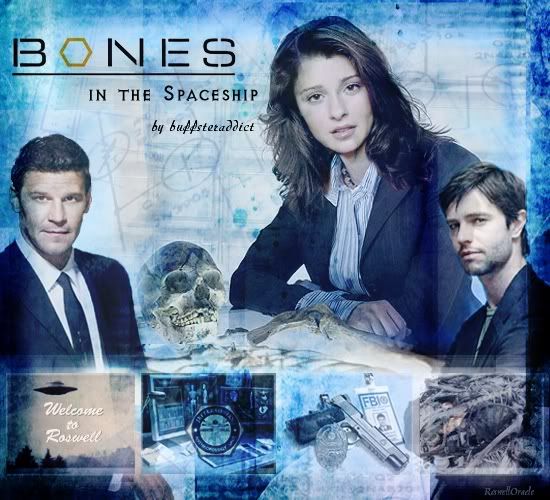 Title
: The Bones in the Spaceship
Author
: Steph (Buffsteraddict)
Rating
: PG-13
Pairings
: Still unsure.
Crossover
: Roswell/Bones
Summary:
Takes place in the present. (2011) Max left earth to go after his son in the third and final season of Roswell. Liz moved on and left Roswell went to University, wanting to distance herself as far as possible from Roswell and everybody she had ever known. 10 years later she is working for the Jeffersonian Institute in D.C as an Anthropologist. An event comes up, forcing Liz to go back to Roswell.
Comments/Notes
: I'm a HUGE David Boreanez fan. And, obviously a huge Bones and Roswell fan, so I figured I'd throw the two shows together and come up with something. Definitely have more time on my hands now that I'm finished school – well until next September. So, hoping to get some good feedback from you guys! Let me know what you think.
Disclaimer
: None of the Roswell characters belong to me; they belong to Jason Katims and Melinda Metz. None of the Bones characters belong to me as well; they belong to Kathie Reichs.
Link
:
http://www.roswellfanatics.net/viewtopi ... =6&t=23882
Free
REPOST
Title:
Free
Author
: Buffsteraddict (Steph)
Rating:
Mature
Disclaimer:
None of the Roswell character's belong to me, they belong to Jason Katims, Fox, Upn, ect.
Couples:
CC, focus on M/L
Summary
: Takes place 7 year's after the 2nd season of Roswell. Liz Parker left town after the episode 'Baby, it's you.'' And now 7 year's later something happens that pushes Liz to go back to Roswell.
Author's notes:
I'm back! Lol. After about 4 years of not writing and not updating any of my fics, I'm finally back. I sat down the other night and watched some Roswell, and that's when it hit me that I HAD to complete this fic because it honestly means alot to me. So I sat at my computer, printed out the old unfinished version of this fic, re-read, and decided to re-write all of it and re-post it. I wasn't sure if I wanted to re-write ALL of it and then post it or post it as I went; and finally I came to the decision that I would re-write it and re-post as I went along. The old version of this fic can be found in the dead & buried section. If anyone wants to read the old one, I can find you the link. But I suggest you read this version instead...less grammar mistakes, lol. To say that I was about 16 when I posted the old version and now I'm 20 going on 21. My writing has gotten just a little better, lol. Alright, I'll stop yapping, and let you enjoy the prologue and the first chapter.
Link
:
http://www.roswellfanatics.net/viewtopi ... 33&t=21682
Old link:
Free
STATUS: ON HOLD
Charmed And Kicking
SEQUEL TO
CHARMED AGAIN
Title: Charmed and Kicking
Author: Buffsteraddict
Rating: Mature
Disclaimer: None of the Roswell or Charmed character's belong to me, they belong to Jason Katims (Roswell), Constance M. Burge (Charmed) Fox, Upn, The Wb ect, except for Peter, who belongs to me.
Category: Roswell/Charmed crossover
Couples: M/L, A/I, CC
Summary: A new sister has now stepped onto the stage, but can she fill the shoes left behind by Prue?
Author's Notes: Sequel to
Charmed Again
.
ON HIATUS FOR NOW -- WILL KEEP YOU POSTED ABOUT POSSIBLE RE-POST.
Link:
Charmed and Kicking
STATUS: ON HOLD
*******************************************
COMPLETED
Charmed Again
Author:
Buffsteraddict
Category
: Charmed/Roswell Crossover
Pairing's
: CC
Rating
: Pg 13
Summary
: (Repost) Piper and Phoebe are devastated by the loss of their sister, Prue. In frustration and despair, Piper casts a spell to summon a lost witch and bring back Prue. The spell works, but not as intended.A lost witch is is found-heir to a shocking Halliwell family secret.
Author's notes
: This is a Repost, I posted this fic as Dreamer_forever13 a while back and I tought of reposting this story. I tought it would make a good fic. A big thanks to
Traitor
for the banner! It looks so amazing!
Status
: Completed
Roswell:
Takes at the end of season two right after Alex's death.
Charmed:
Takes place at the beginning of season 4, right after Prue's death.
Link

:
Charmed Again
*******************************************