Search found 24 matches
by Spiletta42

Tue May 22, 2007 9:28 am
Replies: 36
Views: 16703
One of the things that always bugged me about the show was, the parents really don't play that big of a role, apart from Valenti. Maybe my parents were the exception, but it was really hard for me to get out of the house without telling my parents exactly where I was going and who I was going with....
by Spiletta42

Mon May 07, 2007 9:17 pm
Forum: Multimedia
Topic: Roswell Fanart #17
Replies: 185
Views: 98190
New Incrowd wallpaper: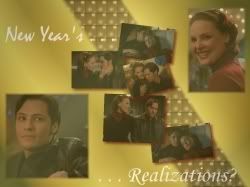 multifandom wallpaper collection
by Spiletta42

Fri Apr 20, 2007 6:24 pm
Forum: Work by Author/Updates
Topic: Spiletta42's fics
Replies: 0
Views: 1733
Spiletta42's Antarian Literature currently features canon-friendly (and spoiler-heavy) episode tags. All are GEN in nature and respect canon pairings. Causality : an episode tag for Departure featuring the friendship between Liz and Kyle. Explanations : a look into Tess's thoughts immediately prior...
by Spiletta42

Fri Apr 13, 2007 12:07 am
Replies: 36
Views: 16703
Now this is a wonderful discussion. In my humble oppinion, Tv has become less art and entertainment and more commerce. Which reminds me of the Colloseum in ancient Rome. the Emperor had to bring out bigger, more exotic and brutal forms of entertainment. Why, because the audience was easily bored. I...
by Spiletta42

Fri Apr 06, 2007 7:58 am
Replies: 36
Views: 16703
I'm inclined to cut them some slack, because they did create lasting characters In fact, Melinda Metz and Laura J.Burns created those characters and the concept of aliens in love with humans. Katims bought the rights so that he could develop a tv series with those characters. The concept of aliens ...
by Spiletta42

Thu Apr 05, 2007 7:13 pm
Replies: 36
Views: 16703
I don't know... I mean I agree with that S1 was written well and well as most of S2 but I think they could have done things a lot better S3... and I think many RFans would agree. I think they would have to rethink a lot of the story lines and rewrite them to get to survive today... and the fact tha...
by Spiletta42

Sat Mar 31, 2007 10:43 am
Replies: 36
Views: 16703
I personally think it wouldn't have been too terribly different. The writers had their story to tell, and did it well. I was going to say that post Sept 11th, the US became a lot more paranoid, but Roswell already portrayed the FBI and Air Force as paranoid. This said, I haven't watched much (okay, ...
by Spiletta42

Thu Mar 29, 2007 6:49 pm
Replies: 28
Views: 15481
I bought Ash and Tarsha Vega because of Roswell. Several of the others I would have bought because of Roswell, but I'd already bought them because of Buffy. Seriously, the music industry would hardly have a prayer of seducing me with its wares, if not for fandom.
by Spiletta42

Sun Mar 25, 2007 4:21 pm
Replies: 6
Views: 3639
I'm completely incapable of 'no' which is why I spend every Sunday washing endless dishes in the church basement instead of enjoying my one day off a week.